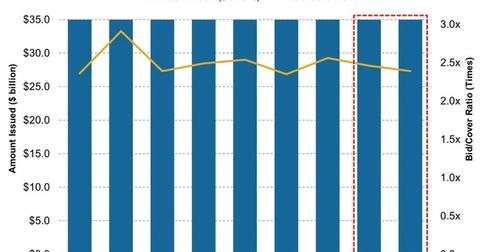 Overall and Market Demand for 5-Year Treasury Notes Fell in June
By David Ashworth

Updated
Five-year Treasury notes auction
The five-year Treasury maturity is important. The difference between 30-year and five-year Treasury note yields gives the slope of the yield curve. Exchange-traded funds such as the iShares Core Total U.S. Bond Market ETF (AGG) and the Vanguard Total Bond Market ETF (BND) have holdings in five-year Treasury notes along with the iShares 3-7 Year Treasury Bond (IEI).
Article continues below advertisement
Key takeaways
Securities worth $35 billion were auctioned on June 24, 2015.
The issue's coupon rate was 1.625%—the highest it's been since September 2014.
The high yield for June's auction was higher at 1.71%—the highest this year and up from 1.56% in May.
The bid-to-cover ratio fell to 2.39x from 2.46x at the previous auction.
Demand analysis
Like the lower bid-to-cover ratio, market demand also fell. Fundamental market demand, which includes bids from direct and indirect bidders, formed 62.1% of the accepted competitive bids, down from 68.4% at May's auction.
Indirect bidders, a category that includes foreign central banks, accounted for 56.6% of the accepted bids, down from 58.5% in May. Meanwhile, the percentage of direct bids fell to 5.6% in June from ~10% month-over-month. Direct bids include bids from domestic money managers—for example, Invesco (IVZ) and Wells Fargo (WFC).
Due to the lower market demand, primary dealers such as Credit Suisse (CS), among others, had to take down a higher quantum of the auction. The takedown was 37.9% of competitive accepted bids, up from 31.6% at May's auction.
Yield analysis
Yield on five-year Treasury notes in the secondary market fell marginally lower following the auction. It ended at 1.69% on June 24, down two basis points from the previous day.