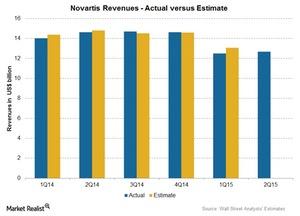 Why Novartis's Revenues Declined Marginally
Revenue performance
In 2Q15, Novartis (NVS) achieved revenues of $12.69 billion, an increase of ~6.3% over 1Q15. However, the company's reported revenues declined by ~5% in 2Q15 from 2Q14. This was primarily due to the negative currency impact and the negative impact of generic competition for Diovan, Exforge, and Vivelle-Dot in the US markets for the pharmaceuticals segment, as well as the declining sales of contact lens care and surgical equipment for Alcon. Excluding the currency impact, the revenues were up by 6%.
Novartis beat analyst estimates over the last four quarters. The adjusted net income for 2Q15 was ~$3,074 million, which was ~10.7% higher than the analyst estimates of $2,775 million.
Article continues below advertisement
Pharmaceuticals segment
As evident from the above chart, pharmaceuticals contributed significantly to net revenues in 2Q15. Pharmaceuticals' net sales for 2Q15 were $7.8 billion, a 4% decline over net sales of $8.2 billion for 2Q14. There was a 6% growth on a constant currency basis. Also, GlaxoSmithKline's (GSK) oncology assets acquired by Novartis reported a volume growth of 13%.
There was a negative impact of ~8% due to the generic competition of Diovan monotherapy, Exforge, and Vivelle-Dot in the US markets. The growth products Gilenya, Lucentis, Afinitor, Tasigna, Xolair, the combination of Tafinlar and Mekinist, Jakavi, and the COPD portfolio generated $3.5 billion in revenues in 2Q15. The revenues of these products increased by ~38% at constant currencies, forming 44% of net sales for the segment.
As an alternative to investing directly in Novartis, investors might consider pharmaceutical funds like the iShares U.S. Healthcare ETF (IYH) and the Health Care Select Sector SPDR ETF (XLV). These funds are focused on pharmaceuticals and healthcare companies like Johnson and Johnson (JNJ), Pfizer (PFE), and Merck and Co. (MRK).