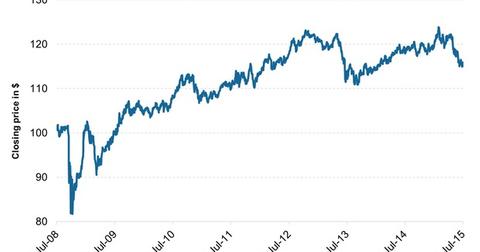 Non-Farm Payroll Leads Drop in Investment-Grade Bond Yields
By David Ashworth

Updated
Rate hike timing is focus once again
Developments in Greece have moved markets for several weeks now. They continued to impact US markets last week as well. However, economic indicators with implications on the direction of US monetary policy were the main focus last week.
A stronger-than-expected private jobs report by ADP led to a rise in investment-grade bond yields, including Treasuries (SHY). Non-farm payroll additions for June were lower than the forecast, which helped cap the rise by moving yields down. There were a few other economic indicators in addition to ADP's private payroll report that infused positive sentiment about an economic rebound.
Article continues below advertisement
The ISM (Institute for Supply Management) Manufacturing Index rose to 53.5 in June, the highest since January 2015. This report pulled down stocks for Caterpillar (CAT) and United Technologies (UTX); however, Boeing (BA) stock rose. Meanwhile, construction spending rose 0.8% in May to its highest level in more than six and a half years.
Market participants watched for implications of these reports on the timing of a rate hike. The non-farm payroll additions report for July was overbearing on all other indicators. It indicated to participants that the Federal Reserve may remain cautious regarding a rate hike. This led to yields falling.
Greece continues to make headlines
Greece defaulted on a payment to its creditors on June 30, 2015. Later, Greeks backed up Prime Minister Alexis Tsipras's call for no austerity by voting no on a referendum. The referendum asked Greeks if they would agree to austerity measures required by Greece's lenders in exchange for financial aid.
Yield movement
Corporate bond yields, as seen by the BofA Merrill Lynch US Corporate Master Effective Yield, ended last week at 3.35%, lower than the previous week.
Due to a fall in yields, the price of the iShares iBoxx $ Investment Grade Corporate Bond ETF (LQD) rose week-over-week. Debt issued by companies such as Verizon (VZ), Medtronic Plc (MDT), and General Electric (GE) are among LQD's major holdings.
In this series, we'll look in detail at investment-grade corporate debt issuances for June. But first, let's take a look at how yields on corporate bonds have fared in 2015 so far.