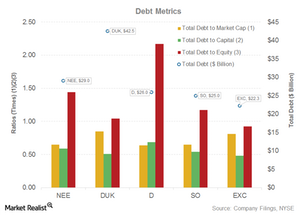 NextEra Energy's Balance Sheet Position
By Mike Sonnenberg

Jul. 15 2015, Updated 8:06 a.m. ET
Debt profile
NextEra Energy (NEE) had total debt of $29.5 billion on its books as of March 31, 2015. Most of its debt of $24.3 billion is in the form of long-term debt obligations. The remaining portion is in the form of short-term debt and the current portion of long-term debt.
NEE had a debt-to-equity (or DE) ratio of 1.44x and a debt-to-market (or DM) capitalization ratio of 0.65x. Among the top five utilities (XLU), Dominion Resources (D) has the highest DE ratio of 2.17x. Duke Energy (DUK) has the highest DM capitalization ratio of 0.85x.
Article continues below advertisement
Power companies own large asset bases. So another key debt metric in the industry is the debt-to-asset ratio. NextEra has a debt-to-asset ratio of 0.39x, which is somewhat higher than the average for the top five players. However, its total debt-to-EBITDA (earnings before interest, taxes, depreciation, and amortization) ratio of 3.8x is lower than other players except Exelon (EXC) at 2.9x. This means NEE generates higher EBITDA per unit of debt in spite of being more leveraged than its peers.
Liquidity
NextEra Energy (NEE) had cash and cash equivalents of $469 million as of March 31, 2015. In addition, the company has access to revolving credit lines of $8.1 billion. After deducting short-term borrowings, NEE had net available liquidity of $6.6 billion as of March 31, 2015. Of that, $2.8 billion was available to Florida Power and Light (or FPL). The remaining $3.8 billion was available to other businesses, including NextEra Energy Resources (or NEER).
With investment-grade credit ratings from rating agencies, NEE is well positioned to raise funds from capital markets, if needed.