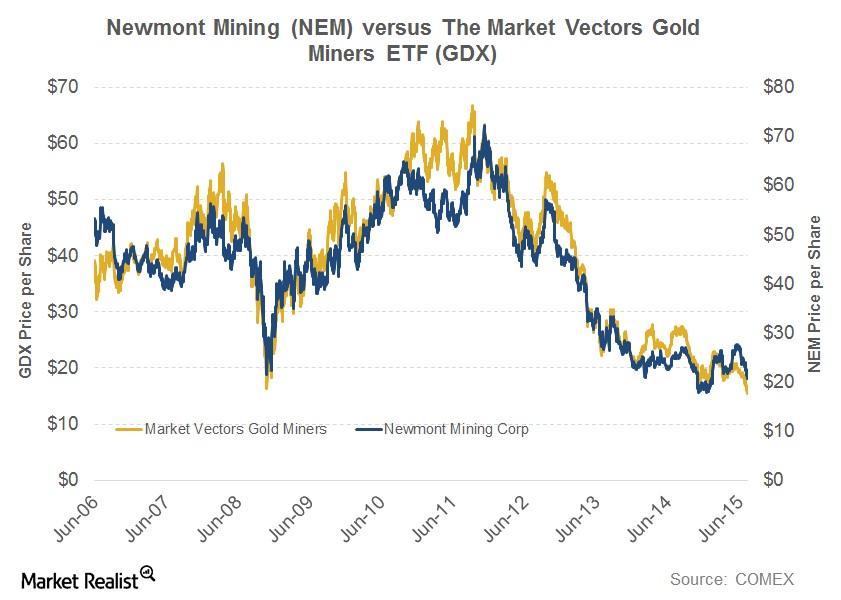 Why Is Newmont Mining Taking the Lead?
Precious metals fall
Newmont Mining (NEM) is one of the leading gold miners. It contributes about 5.43% to the VanEck Vectors Gold Miners ETF (GDX). The current trading price is close to $17.80 per share. Even after major acquisitions—like AngloGold Ashanti's (AGG.AX) Cripple Creek and Vector Mine—and rising production and sales, it had a steep fall in its price due to falling metal prices. Newmont saw a one-month trailing loss close to 24.36%. Its gold production rose from 1.22 million ounces last year to 1.24 million ounces this year.
Article continues below advertisement
GDX versus Newmont Mining
The above chart gives you the performance of Newmont Mining versus GDX over a ten-year period.
There has been a positive correlation between Newmont Mining and GDX's pricing. Newmont has a five-day trailing loss of 4.59% compared to GDX at 0.78%. This is mainly due to the fact that Newmont is the largest gold producer and miner in the US. Newmont is also dealing in another major commodity—copper. Under the current scenario, Newmont's prices are following faster than GDX. Newmont reported a profit of $72 million in the current year—compared to $180 million in the previous year.
Other information
There was a substantial fall in precious metal prices. They almost fell to a new five-year low this week. Currently, Newmont is working to cut its costs and debt. Its sales figure rose almost 8% to $1.91 million. Along with Newmont, other gold miners that took a hit include Goldcorp (GG), Yamana Gold (AUY), Royal Gold (RGLD), and Newcrest Mining (NCM). Together, they account for 26.70% of GDX.