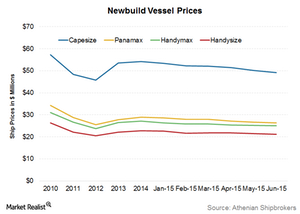 Newbuild Vessel Prices Sink Lower Again in June
Newbuild vessel prices
The purchasing price of new vessels is usually a good indicator of the shipping industry's financial health. When shipping demand is growing more than the supply of ships, shipping companies will place additional orders, increasing purchase prices. Also, when firms are able to charge higher prices for transporting goods across the ocean, it allows them to generate higher gross margins and returns. It increases the value of the ships and vice versa.
Article continues below advertisement
Declining newbuild prices
According to the monthly report issued by Athenian Shipbrokers, new Capesize vessel prices tumbled to below $50 million in June. The price stood at $49.1 million in June compared to $50.1 million last month. Panamax and Handysize vessels followed suit, finishing at lower prices than last month. While the price of a new Panamax stood at $26.4 million as compared to $26.7 million last month, the price of a Handysize vessel decreased by $0.2 million to $25 million in June.
Declining newbuild vessel prices should hardly come as a surprise in a market environment characterized by overcapacity amid weakening demand. The prices have fallen each month since January 2015.
Negative sentiment weighing in
Activity in the newbuild space is slowing down considerably, and faltering commodity demand in China is leading to negative sentiment toward the dry bulk shipping industry. This is pressuring shipyards to keep the price of newbuilds down.
Increased activity in demolition and fewer new orders might encourage some discipline in the oversupplied shipping industry. This would be positive for the stocks of companies operating in the dry bulk space, including Scorpio Bulkers (SALT), Diana Shipping (DSX), Navios Maritime Partners (NMM), Navios Maritime Holdings (NM), and Golden Ocean Group (GOGL).
The Guggenheim Shipping ETF (SEA) invests in the above-mentioned stocks. Navios Maritime and Navios Maritime Partners make up 4.5% of SEA's holdings.
The SPDR S&P Metals and Mining ETF (XME) also provides global exposure to the metals and mining space.
While newbuild prices offer insight into the long-term dynamics of the shipping industry, secondhand vessel prices are used to gauge the short- to medium-term outlook. We'll discuss this in the next part of this series.