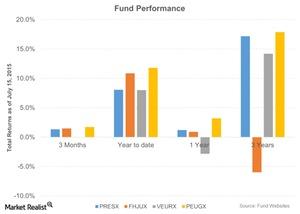 Which Europe-Focused Mutual Fund Offers the Best Total Return?
By Lynn Noah

Jul. 30 2015, Published 6:22 a.m. ET
Funds under review
In the previous article, we identified the four Europe-focused mutual funds that we'll study in this series:
In this article, we'll look at each from a performance perspective.
Article continues below advertisement
Fund performance: Total return
To assess fund performance, we'll be using the total return measure. Total return includes changes in the NAV (net asset value), capital-gains distributions, if any, and, if selected, the reinvestment of those distributions.
In the three-month period ended July 15, 2015, PEUGX marginally outdid its three peers by posting total returns of 1.7%. The FHJUX and PRESX provided total returns of 1.5% and 1.3%, respectively. VEURX failed to provide any total returns.
Year-to-date return performance was in a comparatively tighter range than the three-month return performance. But the results were the same. PEUGX topped its peers with a total return of 11.8% as of July 15, 2015. PEUGX was helped by Numericable Sfr SA (NUM. PA), Persimmon Plc (PSN.L), and ASML Holding NV (ASML).
FHJUX's performance was second with a year-to-date return of 10.9%. Meanwhile, PRESX and VEURX provided year-to-date returns of 8.1% and 8%, respectively.
Over a three-year period, there was close competition between PEUGX and PRESX for the top performer position. But PEUGX topped with 17.9% returns, and PRESX came second with 17.2% returns. FHJUX returns went into negative territory with -6%.
Benchmark
It's important to note here that mutual funds have stated benchmarks. All four of these mutual funds, namely PRESX, FHJUX, PEUGX, and VEURX, benchmark their performance to the MSCI Europe Index.
As of June 30, 2015, MSCI Europe provided returns of 0.7% for the three-month period. The index's year-to-date return came in at 4.3%.
The top three holdings in the MSCI Europe Index include Nestle (NESR.F), Novartis AG (NVS), and Roche Holding (RO.SW) with weights of 2.8%, 2.7%, and 2.3%, respectively, as of June 30, 2015.
In the next article, let's look at the risk-adjusted return performance of these funds.