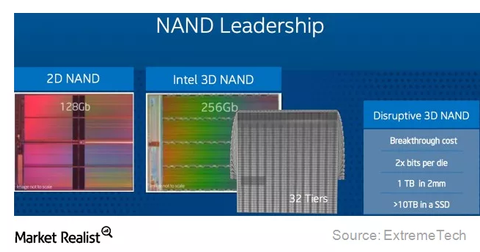 Why Micron Chose 3D NAND to Increase Its Market Presence
By Anne Shields

Updated
3D NAND offers significant performance advantages over planar NAND architecture
In its fiscal 3Q15 earnings presentation, Micron shared that commercial production of 3D NAND will start in the second half of 2015. In 2005, Intel (INTC) and Micron (MU) joined hands to sell NAND to third party customers. The companies took their association to a new level in the semiconductor space when both of them announced the IMFT (Intel-Micron Flash Technologies) partnership to produce 3D NAND.
Article continues below advertisement
3D NAND is perceived to be a disruptive technology, as its design addresses the scaling issues inherent in planar (or 2D) NAND architecture. As each successive generation of planar NAND reduces in size, it loses the potential to hold as many electrons per cell, which directly impacts the performance and error rates. In the end, the cost of dealing with these errors coupled with the need to overprovision to offset the reduced endurance leads to an insupportable situation. 3D NAND relaxes these physical dimensions and allows for electrons-per-cell equivalency of a 50-nm device.
3D NAND is the future of next generation chips
In 3D NAND die stacking, chip layers are oriented vertically, as opposed to horizontal planar structures. 3D NAND is the future of next-generation chip designs, offering:
performance: up to two times higher write speed
power: 50% less power consumption
endurance: ten times that of planar architecture
density: expected to increase by ten times in the future
Article continues below advertisement
Samsung is a leader in the 3D NAND space
Samsung uses a 40-nm process for 3D NAND. Samsung (SSNLF) chose to use a 32-layer, 86-GB die to reduce its die footprint instead of maximizing its capacity. This makes Samsung's V-NAND the smallest die size of any product currently available on the market.
Samsung, due to its 40-nm process, has enough flexibility to launch 850 Pro, one of the fastest and most reliable SSDs (solid-state drives) currently available on the market. Also, Samsung aims to stack over 100 layers of NAND per die.
As a result of its long-standing expertise and manufacturing technology, Samsung is a leader in the 3D NAND flash memory space. Though Samsung leads this space, Micron is not very far behind. The company started 3D NAND samples in 1Q15 and now expects volume commercial production in the later part of 2015.
If you are bullish about Micron Technology, you can invest in the QQQ PowerShares ETF (QQQ) and the Technology Select SPDR (XLK). QQQ and XLK invest about 0.59% and 0.77% in Micron, respectively.