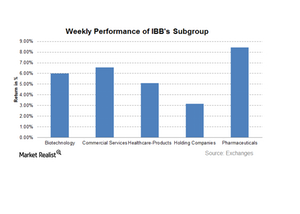 Mergers and Acquisitions Drive the Biotech Sector
By Peter Neil

Updated
Mergers and acquisitions in the biotech sector
Mergers and acquisitions continue to drive the biotech sector. In the week ending July 17, 2015, Celgene (CELG) acquired Receptos (RCPT) for ~$7.2 billion.
The global markets were more stable last week, as the Greek drama ended with the European Union agreeing to provide the bailout package. In another developing story, the nuclear deal between Iran and the P5+1 nations could bring global crude prices down further. Although not directly related, market stabilization allows biotech companies to retain their uncorrelated nature. Biotech stocks surged ahead with good returns during the week.
For the week ending July 17, 2015, the iShares Nasdaq Biotechnology ETF (IBB) returned 6.65% and outperformed the broader market index SPDR S&P 500 ETF (SPY), which gave a return of 2.40% for the same period.
Article continues below advertisement
Out of 146 stocks within IBB, 127 stocks moved up, indicating strong market breadth. Subgroups within IBB performed well, led by pharmaceuticals with a return of 8.45%, followed by commercial services, biotechnology, healthcare products, and holding pharma companies with a return of 6.55%, 6.10%, 5.10%, and 3.17%, respectively.
Standout performers
Anacor Pharmaceuticals (ANAC) outperformed all other stocks with 71.92% returns for the week ending July 17. The stock moved up on the news that the result from its two phase III pivotal studies of Crisaborole Topical Ointment were positive. This drug is used in the treatment of atopic dermatitis in children and adults. There are approximately 18 to 25 million people in the United States suffering from atopic dermatitis. Analysts expect that the drug could potentially bring in $2 billion in revenues for the company.
Receptos (RCPT) stock gained 18.31% for the week ending July 17, as it was acquired by Celgene (CELG) for an estimated value of ~$7.2 billion. On the flip side, Pacira Pharmaceuticals (PCRX) was the worst performer. The stock price was down by 8.56% for the week ending July 17, 2015. The stock went down as analysts made a downward revision of earnings estimate for the current year.