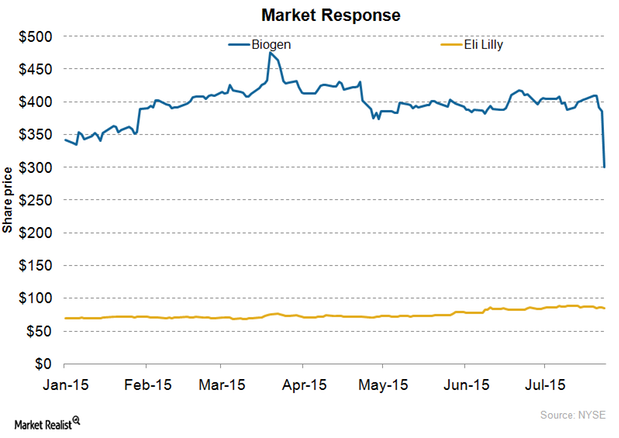 Market Response to Biogen's and Eli Lilly's Alzheimer's Drugs
By Margaret Patrick

Jul. 28 2015, Updated 4:05 p.m. ET
Alzheimer's drugs: Test results
On July 22, 2015, Biogen (BIIB) and Eli Lilly (LLY) released interim results from the clinical trials of their respective Alzheimer's drugs, aducanumab, or BIIB037, and solanezumab, at the 2015 Alzheimer's Association International Conference. Following the release of results, Biogen's share price fell by 4.3% to $391.70, down from $409.50 on July 21, 2015. Meanwhile, Eli Lilly's (LLY) share price rose by ~1% from $85.60 on July 21, 2015, to $86.40 on July 22, 2015.
Article continues below advertisement
The above graph shows the sudden fall in Biogen's share price after July 22, 2015. This is attributed to the mixed results of the company's Alzheimer's drug, BIIB037. The impact was magnified because the company reduced its full-year sales and earnings outlook for its key product, Tecfidera, in its second-quarter earnings report released on July 24, 2015.
Eli Lilly continued to display stable share prices following the release of its Alzheimer's drug data.
Alzheimer's market
The Alzheimer's market is estimated to be worth $20 billion. Currently, there are no medications that can cure the disease. Alzheimer's is characterized by a gradual loss of memory, thinking, and reasoning that ultimately disrupts daily life. With time, symptoms gradually become more severe. Medications currently available in the market, including Allergan's (AGN) Namenda, Pfizer's (PFE) Aricept, and Novartis's (NVS) Exelon, only help in reducing the severity of these Alzheimer's symptoms.
Article continues below advertisement
Alzheimer's medications
Alzheimer's is caused by the accumulation of a protein called beta-amyloid in the brain. These proteins gradually build up into plaques on the neurons and affect the normal functioning of these cells. Biogen's BIIB037 and Eli Lilly's solanezumab aim to clear these plaques off the brain and reduce cognitive decline in Alzheimer's patients. Until now, about 120 research programs targeting Alzheimer's disease have failed.
Biogen released promising interim results from the Phase 1b study of BIIB037 in March 2015. However, the July 2015 results were less impressive than expected. Investors had anticipated that the BIIB037's dosage of 6 milligrams per kilogram of patient's weight would be more effective than the actual reported value.
A side effect called ARIA, or amyloid-related imaging abnormalities, which can result in brain inflammation, has been identified as a side effect of BIIB037. Though BIIB037 shows effectiveness at a 10 milligrams per kilogram dosage, it might not be approved by the Food and Drug Administration for safety reasons. This uncertainty has affected the company's share price and reduced the future outlook for the company. For more on this topic, please read Risks Faced by Biogen.
Eli Lilly has released promising data for solanezumab that targets patients with mild Alzheimer's disease. The company expects to submit the drug for regulatory approval in 2016.
Investors can get exposure to Biogen's new Alzheimer's therapy, BIIB037, while avoiding company-specific risks by investing in the iShares NASDAQ Biotechnology ETF (IBB). IBB has 7.48% of its total holdings in Biogen.