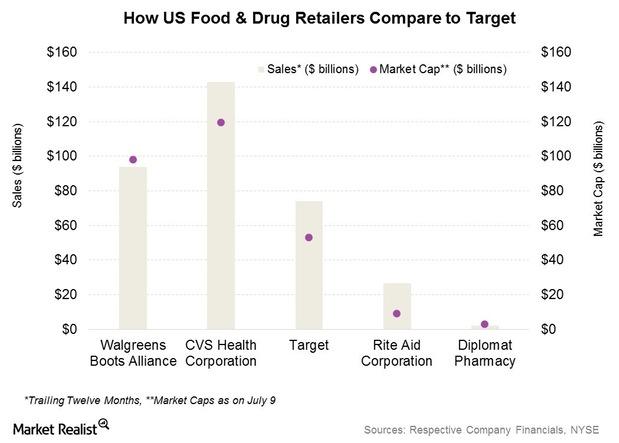 Mapping the Strategic Shifts in Target's Businesses
By Phalguni Soni

Jul. 14 2015, Updated 11:07 a.m. ET
Generic drugs
CVS Health (CVS) is the largest drug retailer in the US in terms of sales and market cap. The company estimated its retail pharmacy (XRT) market share at ~21% in June 2015.
According to the terms of the deal disclosed by the companies, CVS will make a low-cost generic version of the drugs available to Target's (TGT) customers who pay in cash without the benefit of membership. Generic drugs typically cost significantly less, estimated to be as much as 80%–85% lower than the brand name drug.[1. US Food and Drug Administration] This aspect of the deal is likely to be a significant store attractor.
Plus, generic prescriptions earn higher margins compared with brand name prescriptions.[2. CVS CEO Larry Merlo at the 4Q14 CVS earnings conference call] A higher percentage of generics in the sales mix would boost CVS' profitability.
Article continues below advertisement
Store pick-ups
Also, the ability to pick up prescriptions at Target pharmacies is an important traffic driver for both Target and CVS. Target's store footprint, including its presence in states where CVS isn't currently present, also adds to the omni-channel opportunity.
Target's wellness focus
Target's (TGT) decision to sell its pharmacy business to CVS Health (CVS) for $1.9 billion will also allow Target to focus on more complementary products to CVS' pharmacy business, including health and wellness. Target is looking at adding more fitness apparel and wearables merchandise in its stores.
Target is also looking to grow its organics offering. Firms like Whole Foods Market (WFM) have been highly successful and are also more profitable in organic foods. A number of retail players, including Walmart (WMT) and Kroger (KR), are stepping up their offering in organics.
These are some of the fastest growing categories in the consumer (XLY) sector, which should help boost Target's margins. This is particularly relevant, as Target's performance in its pharmacy business yielded no operating profits last year.
CVS' specialized pharmacy expertise can help turn things around for Target's pharmacies, which we'll discuss in the next article.