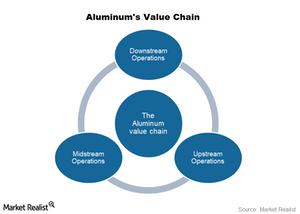 Lower Aluminum Premiums: Good for Fabricators, Bad for Producers
By Mohit Oberoi, CFA

Jul. 7 2015, Updated 11:05 a.m. ET
Aluminum fabricators benefit from lower premiums
In the previous part of this series, we saw that aluminum premiums in the United States have crashed by almost two-thirds this year. To explore how Alcoa and other aluminum plays are impacted differently by aluminum premiums, let's first understand aluminum's value chain.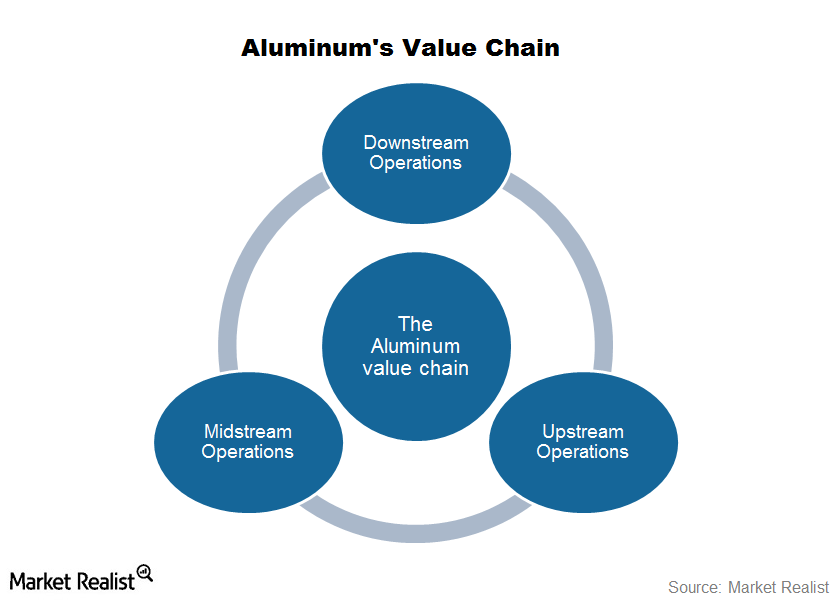 Aluminum's value chain can be classified as upstream, midstream, and downstream operations, as you can see in the above chart.
Article continues below advertisement
Aluminum upstream operations
Bauxite refining is the first step in aluminum's production process. Since there's a lot of impurities in bauxite, it's refined to produce alumina. Alumina is then further processed to produce raw aluminum. Companies like Rio Tinto (RIO) and Alcoa (AA) have aluminum upstream operations that sell primary aluminum. They are negatively impacted by the decline in aluminum premiums.
Together, Alcoa and Reliance Steel & Aluminum (RS) form ~8.2% of the SPDR S&P Metals and Mining ETF (XME).
Midstream operations convert raw aluminum into aluminum sheet, plates, and foils. Although some value addition happens at this stage, midstream operators still produce commodity type products.
Aluminum downstream operations
The real value addition happens in aluminum's downstream or fabrication operations. At this stage, aluminum is converted into custom shapes according to specific end-consumer requirements. Alcoa has downstream operations that produce value added products for several industries.
Aluminum fabricators like Kaiser Aluminum (KALU) have benefited from the massive drop in aluminum premiums. KALU buys aluminum from primary producers and then fabricates it. It has to pay physical premiums when it buys aluminum. Sometimes fabricators face a challenge passing these premiums on to their buyers.
Aluminum premiums having corrected, and fabricators stand to benefit. Their unit production costs have come down with the fall in aluminum premiums. So why has Alcoa, which also has significant downstream operations, not benefited from lower aluminum premiums? We'll explore this in the next part of the series.