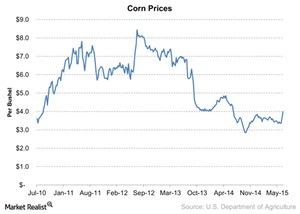 Why Low Corn Prices Are Good for Restaurants
By Adam Jones

Updated
United States tops corn production
The United States tops the world chart for corn production. It's estimated to produce 361 million metric tons per season. Corn is one of the most important agricultural commodities in the United States. In the 2015–2016 seasons, which run from April to October, total world production of corn is expected to be about 638 million metric tons.
Corn prices in the week ending July 3 stood at $3.99 per bushel compared to $3.66 a week ago. About 38% of corn produced is used as animal feed in the United States. Naturally, a drop in the price of corn will have an impact on meat prices as well.
About another 38% of corn is used to produce ethanol. Corn prices fell sharply around September 2013 as a result of the ethanol mandate, which required less ethanol to be blended in biofuel.
Article continues below advertisement
The outlook for corn
The USDA (U.S. Department of Agriculture) raised its outlook for corn in its June 10 World Agricultural Supply and Demand Estimates report. Corn production levels are expected to remain 4% below the previous year's record crop. Prices are expected to be in the range of $3.20–$3.80 per bushel.
Key takeaways for restaurants
Here are some key takeaways for the restaurant industry:
Beef prices will be lower compared to 2014 but may remain elevated compared to the five-year historic average.
Pork prices have dropped as the effects of the swine flu subside in 2015.
Chicken prices may fall more if the avian flu spreads, resulting in more countries placing a ban on chicken imports from the United States.
Overall, restaurants should benefit from lower beef prices and falling pork prices.
We'll watch out for food costs for restaurants such as Yum! Brands (YUM), Shake Shack (SHAK), and Panera Bread (PNRA) in their upcoming earnings releases. So visit our site for updates. YUM! Brands forms 1.5% of the Consumer Discretionary Select Sector SPDR Fund (XLY). XLY also holds 4% of McDonald's (MCD).
To get more updates on the restaurant industry, be sure to visit our Restaurants page.