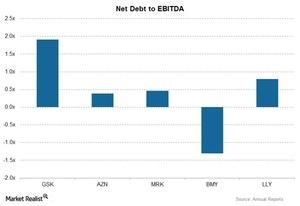 Leverage for GlaxoSmithKline
By Mike Benson

Jul. 16 2015, Updated 11:05 a.m. ET
Is GlaxoSmithKline highly levered?
GlaxoSmithKline (GSK), a British multinational pharmaceutical giant, uses both equity and debt for its working capital requirements as well as investments in business.
Article continues below advertisement
Net debt to EBIDTA
Net debt to EBITDA (earnings before interest, tax, depreciation, and amortization), a measure of leverage, is calculated as a company's interest-bearing liabilities minus cash or cash equivalents, divided by its EBITDA. If a company has more cash than debt, the ratio can be negative.
The above chart shows a comparison of net debt to EBITDA for GlaxoSmithKline (GSK) and its peers, including AstraZeneca (AZN), Merck (MRK), Bristol-Myers Squibb (BMY), and Eli Lilly (LLY).
Total debt-to-equity ratio
The total debt-to-equity ratio is a measure of financial leverage, calculated as total debt liabilities divided by its shareholders' equity. The total debt-to-equity ratio for GlaxoSmithKline is 380%, while this ratio for its peers AstraZeneca, Bristol-Myers Squibb, Eli Lilly, and Merck is 55%, 52.2%, 52.3%, and 43.8%, respectively.
This signifies that GSK uses much higher debt in terms of percentage to equity compared with its peers. This can negatively impact GSK to raise funds if needed.
Article continues below advertisement
Credit ratings
GlaxoSmithKline's long-term credit rating with Standard & Poor's is A+, and its Moody's rating is A2 as of December 31, 2014. This rating is considered stable by lenders. The company is rated A-1 and P-1 by Standard & Poor's and Moody's for short-term debt, respectively, for the same period.
Debt maturity and rate of interest
GlaxoSmithKline has a $10 billion US commercial paper program, of which $1 billion was in issue as of December 31, 2014. The weighted average interest on bank loans and overdrafts as of December 31, 2014, was 4.28%, while for commercial paper borrowings, it was 0.22%.
The company had long-term borrowings of 15.8 billion pounds (or $26.1 billion) as of December 31, 2014. Of this, 9.8 billion pounds (or $16.2 billion) will mature after more than five years. The average effective pre-swap interest rate of all notes in issue on December 31, 2014, was approximately 3.8%.
The group also has pledged investments in US Treasury notes with a par value of $105 million (67 million pounds) as security against irrevocable letters of credit issued on the group's behalf with respect to self-insurance activity.
Investors may consider the Health Care Select Sector SPDR ETF (XLV) for diversification, as this ETF focuses on healthcare and pharmaceutical companies.