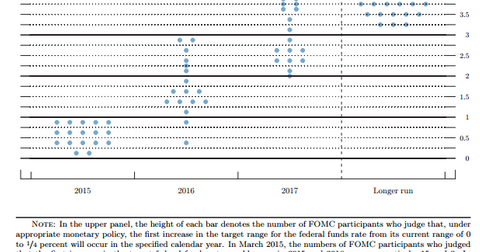 Last Week in Review: Endgame in Greece and the Chinese Sell-Off
By Brent Nyitray, CFA, MBA

Jul. 14 2015, Updated 9:05 a.m. ET
Week in review
The week after the jobs report is generally data-light, and last week was no exception. As a result, international events took center stage. The meltdown in Chinese stocks was probably more significant. However, the situation in Greece dominated the headlines.
On Friday, Greece announced that it was more or less willing to implement the reforms that the European Union and the International Monetary Fund were asking for, and that sent stock markets screaming higher (and bonds lower) as markets put on the "risk-on" trade (which means selling Treasuries to buy stocks).
Article continues below advertisement
The dramatic sell-off in Chinese stocks was a bigger deal, however, as their market had gone vertical in late spring. Much of this rally was based on borrowed money, and margin calls have been the catalyst to push stocks down. China's government took extraordinary measures to prop up the market, such as suspending IPOs and banning stock sales from anyone holding 5% in a company. This will be an interesting titanic battle of wills, as Mr. Market wrestles with Big Communist Government. Chinese stocks rebounded late last week as the market held the 200-day moving average.
Implications for mortgage REITs
Bond yields were more or less unchanged last week, and have been subject to overseas movements. This was good news for mortgage REITs, particularly agency REITs such as Annaly Capital Management (NLY) and American Capital Agency (AGNC). REITs exposed to adjustable-rate mortgages, such as MFA Financial (MFA), are a little more insulated from interest rate moves.
Last week the FOMC minutes were interpreted as relatively dovish, although the forecast for Fed Funds has two increases by the end of the year. Investors interested in making directional bets on interest rates should look at the iShares 20-year bond fund (TLT).
Investors interested in trading in the mortgage REIT sector through an ETF should look at the iShares Mortgage Real Estate Capped ETF (REM).
For mortgage-REIT investors, the markets will turn inhospitable as the Fed begins the normalization process. That said, taking credit risk through non-agency REITs will probably be the best strategy in an environment of rising yields driven by economic strength.
Implications for homebuilders
We heard from Lennar (LEN) recently. Both the company's earnings per share and its revenues were much stronger than expected. The company also reported a big jump in orders and deliveries. On the conference call, management mentioned that supply remains tight—which we know from the latest National Association of Realtors existing home sales numbers. Tight credit in the mortgage market remains the biggest problem area for homebuilders.
You can invest in homebuilders through the SPDR S&P Homebuilders ETF (XHB).