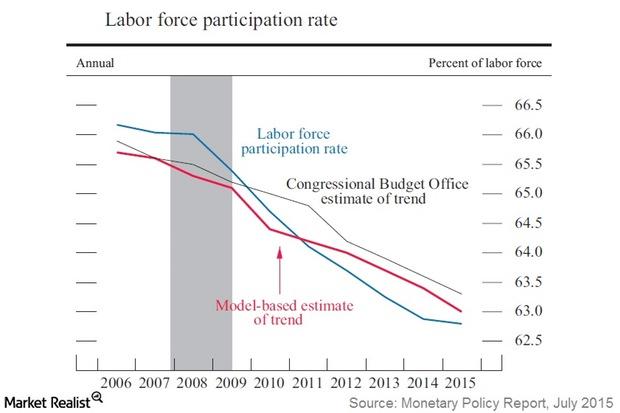 The Labor Market Is Good, but Slack Remains
Labor market
Job additions in the US have been strong, for the most part, from 2014 to date in 2015. Mining has been a sector that continues to face job cuts. Otherwise, the labor market is poised for continued strength.
The FOMC's (Federal Open Market Committee) June minutes were released earlier in July. They were positive on the drilling and mining sectors as well. They revealed that the Fed districts, whose economic activity had been severely affected by a fall in energy prices (USO), are witnessing either less of a contraction in drilling activity or stabilization.
A rise in drilling activity would be good news for companies like Transocean (RIG), Diamond Offshore Drilling (DO), Rowan Companies (RDC), and Atwood Oceanics (ATW). ETFs like SPDR S&P Oil & Gas Exploration & Production ETF (XOP) also stand to benefit.
Article continues below advertisement
Labor market slack remains
Slack in the labor market implies that the available workforce is being underutilized. Factors include people who would prefer to work full-time but are working part-time and people completely exiting the workforce due to poor job market conditions.
One of the indicators pointing to slack is the labor force participation rate. It's calculated by the number of people actively looking for jobs divided by the number of people willing and able to work. From the above graph, it's evident that this rate has been lower than the trend—both model-based and as estimated by the Congressional Budget Office.
Although this isn't a factor for investors to be overly worried about, an improvement will underpin the strength in the labor market.
Concerns?
Most labor market aspects appear solid, but participants are worried about productivity growth. If productivity growth remains weak—like it has been recently—then the labor market metrics could tighten quickly. This would put much higher upward pressure on inflation. However, if productivity growth reverses course and strengthens, hiring could slow down. This could lead to deterioration in labor market metrics.
Although the labor market is broadly set for a rate hike, there are factors that can derail the hike from its expected path. We'll discuss these factors in the next part of this series.