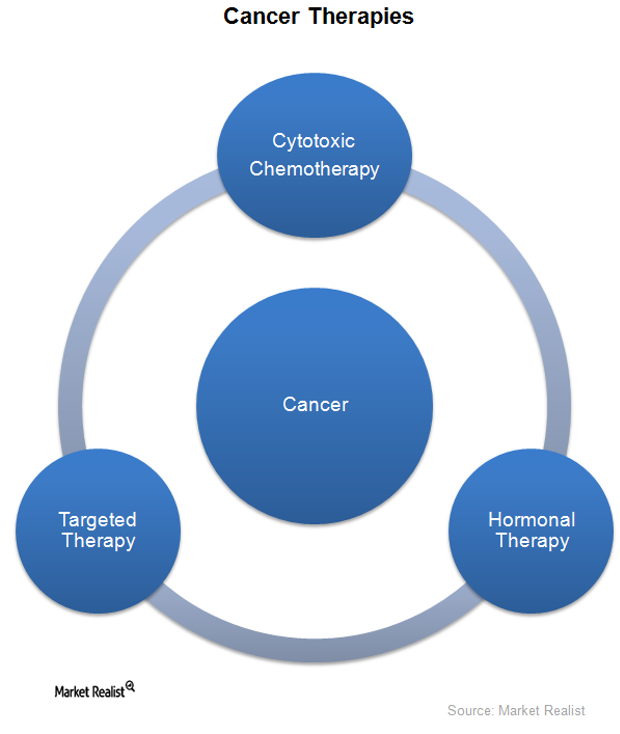 Key Therapies for Cancer Will Determine Biotechnology's Profits
By Margaret Patrick

Jul. 9 2015, Updated 9:05 a.m. ET
Cancer
Cancer is a group of diseases in which body cells grow abnormally and excessively. As this cell growth spreads to other parts of the body, it interferes with the normal functioning of the body.
The above graph shows the different types of pharmacotherapy cancer treatments, or treatments that use pharmaceutical drugs to treat cancer. Cytotoxic chemotherapy, based on chemical substances, is the oldest therapy against cancer. It was first invented in the 1940s. The biotechnology industry (IBB) then introduced hormonal therapy and targeted molecular therapies in the 1980s.
Article continues below advertisement
Cytotoxic chemotherapy
Cytotoxic chemotherapy is a chemical drug–based treatment used in conjunction with radiation therapy or surgery. Chemotherapy drugs involve agents that are cytotoxic in nature and act by indiscriminately killing the cells that are dividing rapidly. Abnormal division and growth are important characteristics of cancer cells. Chemotherapy helps kill the affected cells. However, chemotherapy also has side effects that harm normal body cells, especially hair follicle cells, bone marrow cells, and digestive tract cells.
Hormonal therapy
Hormonal therapy is used to treat cancers of tissues that are hormone-sensitive, such as breast and  prostate. Hormones signal agents produced by glands in the human body, together called the endocrine system. These hormones are transported through the blood to various organs to regulate activity of certain cells or organs.
In hormonal cancer therapy, hormones or steroids that act as hormones are introduced into the body to manipulate the body's endocrine system. This leads to suppression of production or activity of certain hormones required for the growth of cancer cells, leading to the destruction of affected cancer cells.
Article continues below advertisement
Targeted therapy
Targeted therapy is an improved version of traditional chemotherapy. It involves blocking the growth of cancer cells while not affecting normal body cells. Monoclonal antibody, also called immune-oncology, is the most well known targeted therapy against cancer.
An antibody is an agent produced by the body's immunological system to identify pathogens or cancer-causing agents. Since cancer cells belong to the patient's body, the body's immune system doesn't produce antibodies to identify these cells. Monoclonal antibodies are developed to identify cancer cells and are then introduced into the body.
In this therapy, monoclonal antibodies bind to cancer cells. This stimulates the patient's immune system to attack the cancer cells. Monoclonal antibodies are also used to deliver toxins or chemical drugs to cancerous cells. Since this therapy targets cancer cells, it has fewer side-effects compared to conventional chemotherapy.
Major biotechnology companies such as Amgen (AMGN), Gilead Sciences (GILD), Biogen (BIIB), and Celgene (CELG) have introduced several blockbuster drugs, and several more are in the pipeline. The success of drugs still in the pipeline will be a key determinant of these biotechnology companies' future profitability.