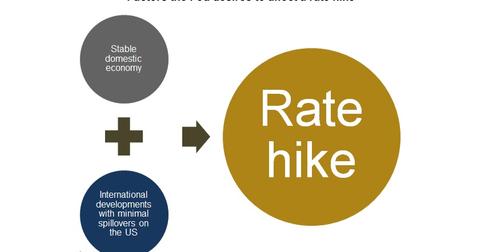 Do the June FOMC Minutes Indicate Overt Caution?
By David Ashworth

Updated
Cautious optimism, or…?
If you went through the June 2015 meeting minutes, specifically the part where policymakers express their opinions about the economy, you'd likely get a generally favorable impression of the economy going forward. Then why are policymakers dovish about a hike in the federal funds rate?
The primary reason is that except for the labor market, the economy isn't a completely sunny picture. There are a lot of ifs clouding the horizon.
For instance, although policymakers are optimistic about moderate growth in the US economy in 2Q15, they're not overtly optimistic. Growth in household spending isn't going through the roof. This could negatively impact economic growth and depress inflation as well.
Article continues below advertisement
Even in an otherwise good labor market, participants are concerned about slow wage growth. Rises in wages usually follow an economic upturn because employers are confident about the prospects of their businesses. Since wage growth has remained tepid, along with business investment, policymakers can't be sure about either an uptick in household spending or inflation.
…Erring on the side of caution?
Due to the factors listed above, the minutes take an explicit dovish tone with regard to an impending rate hike.
Policymakers are worried about the reputation of the Federal Reserve if the central bank doesn't effect liftoff this year. But at the same time, they maintain that a rate hike will remain data driven. As a result, it seems that policymakers want to err on the side of caution. They don't want to hike rates it the move might slow economic growth and force them to reverse this hike. At this time, they don't seem too worried about runaway inflation, which could result if they're too late in hiking rates.
Equity (IVV), fixed income (TLT), and currency investors (UUP), along with exporters such as Procter & Gamble (PG), Colgate-Palmolive (CL), and Honeywell International (HON), will continue to be dialed into the Fed's stance on monetary policy.
Next, let's look at what factors are important to the Fed's decision, one by one, starting with economic growth.