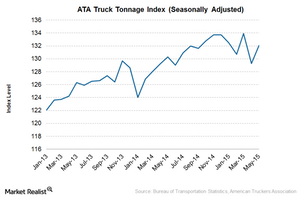 What Investors Should Know about the Trucking Industry
By Santiago Solari

Jul. 8 2015, Published 6:42 a.m. ET
Truck Tonnage Index
The condition of the trucking industry provides a basis for reading the status of the economy. Over 65% of the freight that's transported in the US is done through motor carriers. When it comes to assessing shipping activity among truckers, the Truck Tonnage Index—reported by the American Truckers Association—serves as a meaningful measure. The index measures gross tonnage of goods or cargo shipped through motor carriers, on a monthly basis. The index data are reported with a one-month lag.
Article continues below advertisement
After a slight fall of 1.4% month-over-month in April 2015, the Truck Tonnage Index rose 1.8%. It reached 132.1 in May on a seasonally adjusted basis. In contrast, the seasonally unadjusted index rose 17.2% from the month before. However, the trucking business is exposed to seasonal swings in the economy.
Generally, the first quarter tends to be slower than the rest of the year. Therefore, adjusting for seasonality provides a more meaningful comparison. The rise was only slight. The index hasn't fully recovered from its slip in February. Overall, it was an encouraging sign for the industry.
While retaining employees has been a perennial challenge for operators, a positive sign for the industry has been the rise of the For-Hire Trucking Employment Index, released by the Journal of Commerce. The index is at an all-time high of 100.8 as of June 2015—reflecting a 3.1% YoY (year-over-year) improvement. In the last three months alone, the industry has added 18,900 jobs—according to the Bureau of Labor Statistics. Hiring is expected to rise more in the second half of the year.
Article continues below advertisement
Trucking firms are poised to expand
In June 2015, GE Capital reported a survey. It was conducted among middle-market—companies with revenue from $10 million to $1 billion—executives in trucking firms. The survey focused on their views on the industry's future. It revealed a strong outlook. More than half of the survey participants predicted that employment in the industry would grow by 5.3% over the next 12-month period. Additionally, half of the trucking business leaders expect that the industry will expand with ~39% looking for extra capital to finance vehicle purchases.
Investors can gain exposure to trucking companies by investing in a pooled investment vehicle like the SPDR Transportation ETF (XTN). YTD (year-to-date), XTN's returns have trailed the SPDR S&P 500 (SPY) by ~9%. XTN is comprised of 49 stocks that belong to various industries within the transportation sector. Around 16 of the stocks belong to the trucking industry. Among these stocks, the five largest by market capitalization are J.B. Hunt Transport Services (JBHT), AMERCO (UHAL)—a truck rental company, Old Dominion Freight Line (ODFL), Ryder System (R), and Swift Transportation (SWFT), in that order.