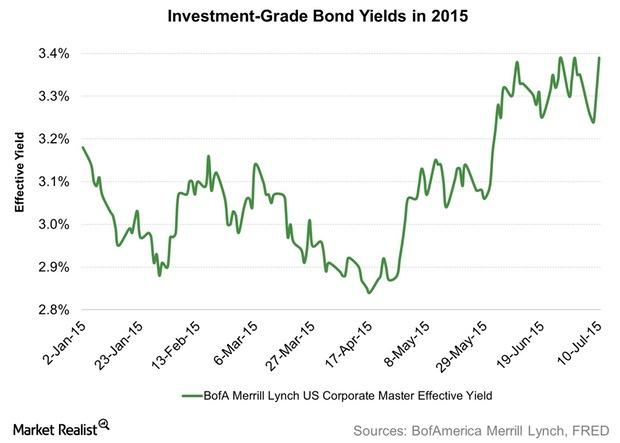 Investment-Grade Corporate Bond Yields Touch 2015 Highs
By David Ashworth

Jul. 15 2015, Published 3:17 p.m. ET
Investment-grade bonds
Corporate investment-grade bonds are debt instruments that are rated BBB- and above by rating major Standard & Poor's. Other rating agencies have their own scale for rating a corporate bond investment-grade. Treasuries are also counted as investment-grade bonds.
If you want to invest in corporate investment-grade bonds, you can invest in ETFs like the iShares iBoxx $ Investment Grade Corporate Bond ETF (LQD). LQD invests in investment-grade corporate bonds of companies like Apple (AAPL), General Electric (GE), and Medtronic (MDT). ETFs like the iShares 7-10 Year Treasury Bond ETF (IEF) invest exclusively in Treasuries.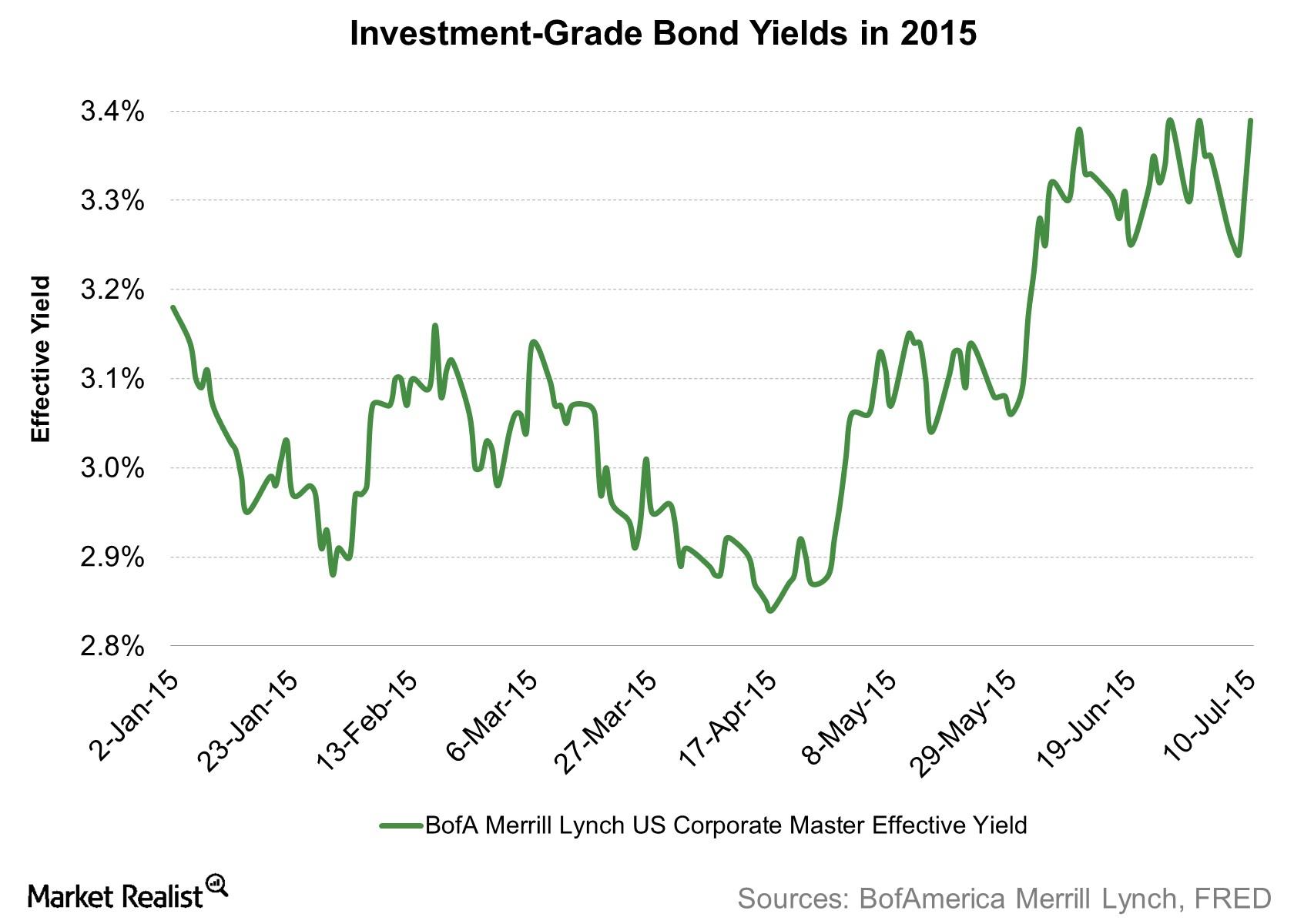 Article continues below advertisement
Yield movement in 2015 so far
For a large part of 2015 so far, yields on investment-grade corporate bonds have stayed below 3.10%, according to the BofA Merrill Lynch US Corporate Master Effective Yield. These bonds were in demand globally due to the higher yield they provided compared to similarly rated instruments of other developed nations.
Yields on investment-grade corporate bonds fell to a low of 2.84% by mid-April. These low levels led US corporates and financials, apart from Yankee issuers, to throng the primary market in the United States.
By the end of April, yields were showing a rising trend, although their levels remained below 2014 levels. But when June broke, the low level trend broke, and yields rose to a high of 3.39% on June 26 and again on July 10. This was the highest level in 2015 and the highest level since October 1, 2013.
Since June, developments in Greece have influenced yield movement. Whenever the market felt Greece was closing in on a deal with its creditors, yields rose, and vice versa.
Spreads in 2015
The BofA Merrill Lynch Option-Adjusted Spread (or OAS) measures the average difference in yields between investment-grade bonds and Treasuries. Securities selected for calculating this spread are the ones rated BBB- or higher on the Standard & Poor's rating scale.
If spreads are rising or widening, credit conditions can be assumed to be worsening. Spreads also widen when growth is slow and economic conditions are worsening. On the other hand, falling or tightening spreads coincide with faster growth and generally better economic conditions.
In 2014, spreads by this measure ranged between 1.06% and 1.51%. Until July 10, 2015, spreads ranged between 1.29% and 1.53%. Spreads fell as the year progressed except in May, June, and part of July.
The OAS averaged 1.50% in January 2015. The average fell to 1.43% in February, 1.35% in March, and 1.33% in April. However, in May, spreads averaged 1.34%, and in June, they averaged 1.42%. Until July 10, spreads averaged 1.48%. Spreads are up 5 basis points compared to the end of December 2014.