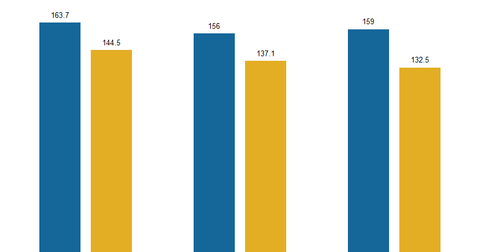 Intel's Earnings Report a Harbinger for the Semiconductor Sector
By Adam Rogers

Jul. 21 2015, Updated 1:06 p.m. ET
Intel declares its 2Q15 results 
Intel (INTC) declared its 2Q15 earnings on Wednesday, July 15, 2015. Investors in semiconductor stocks are tracking this closely as well as looking for any indicators that might suggest the future stock performance in this industry. Intel reported earnings of $13.2 billion and EPS (earnings per share) of $0.55, beating analyst revenue estimates of $13.04 billion and EPS estimates of $0.44.
Intel has delivered YTD (year-to-date) returns of -12.2% as of July 14, 2015, and has fallen by 6.4% in the trailing one-month period. In 2014, the stock rose by 44.3% in an impressive rally.
Article continues below advertisement
Factors affecting Intel performance
Worldwide, the PC business is expected to decline by 4.9% in 2015, more than a previous decline forecast of 3.3% from the IDC (International Data Corporation). Total PC volume is also expected to fall, from 293.1 million in 2015 to 291.4 million in 2019. In terms of absolute value, though the PC market realized revenues of $201 billion in 2014, it's expected revenues will fall by 6.9% in 2015. According to forecasts, 2019 revenue will total ~$175 billion.
PC processors are a substantial source of revenue for Intel's microprocessor units. That's why Intel's performance is directly correlated to PC sales.
Investors should note that PC vendors have been stocking unnecessary inventory throughout the first six months of 2015. According to Intel CFO Stacy Smith, inventory was reduced during 1Q15 and has since continued to decline. The firm expects PC vendors to rebuild inventories to normal levels, but it will be interesting to see if this inventory rebuilding will play out positively for the company.
During Intel's last investor meeting in November 2014, the firm forecast 15% growth in its data center segment in 2015. It also projected that operating profit would grow faster than revenue. In 1Q15, the data center segment grew by an impressive 19%. So analysts and investors will be looking closely at this segment. If revenues can grow more significantly than the 15% forecast, a buffer might be created between investors and an underperforming PC segment.
Intel constitutes 2.85% of the PowerShares QQQ Trust, Series 1 (QQQ) and 3% of the Technology Select Sector SPDR Fund (XLK).
Intel's main competitors in the data center sector are EMC (EMC) and Avago Technologies (AVGO). EMC's year-to-date investor returns are 0.57%, and AVGO's returns are 2.3%.