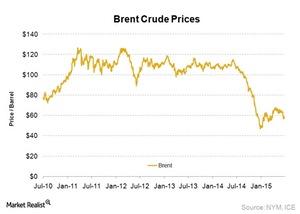 How Do Oil Prices Impact the Crude Tanker Industry?
By Sue Goodridge

Updated
Average crude oil prices for the year    
In June 2015, Brent crude prices have been range-bound between $62 and $65 per barrel. In July, the prices have started to fall. Oil prices impact the crude tanker industry in many ways. Crude prices have an impact on the freight rates and bunker prices.
Article continues below advertisement
Crude tanker prices in July
Brent crude oil has averaged $58.30 per barrel from July 1–17. Brent crude oil was priced at $57.10 on July 17, 2015—compared to $58.73 on July 10. The sanctions for Iran's nuclear deal raised fears of a potential flood of Iranian crude oil. This pushed the oil prices down more this week.
Freight rates          
Countries, especially China, imported larger quantities of cheap oil to store it for future use. This increased the demand for crude tankers. In turn, there were higher freight rates. Higher freight rates benefit the crude tanker industry.
Article continues below advertisement
Bunker price
The biggest cost to run a ship is bunker fuel. Low oil prices benefit shipping companies. Lower costs help companies raise their bottom line substantially. Higher oil prices mean higher operating costs and lower profits. According to MJLF Research, due to last week's oil price fall, the average bunker cost fell by $4 per ton.
Contango
"Contango" refers to a situation where the current or spot price is below the future price. In this case, companies buy oil in the spot market and store the oil to sell it at a later date. According to industry analysts, it cost around $1.10 per barrel in March 2015 to store oil on VLCCs (very large crude carriers) for one month. For storage to work, the contango needs to be steep enough to exceed the storage costs. Wider contango situations lead to floating storage that increases the demand for crude tankers. The wider the contango, the more beneficial it is for the crude tanker industry. The Iranian nuclear deal will see higher Iranian crude exports adding to the already oversupplied oil market. This could lead to a steeper contango curve.
Higher freight rates, low bunker prices, and a steeper contango will have a higher bottom line for companies like Frontline (FRO), Euronav (EURN), Nordic American Tanker (NAT), Teekay Tankers (TNK), DHT Holdings (DHT), Tsakos Energy Navigation (TNP), and the PoweShares DB Oil Fund (DBO) ETF.