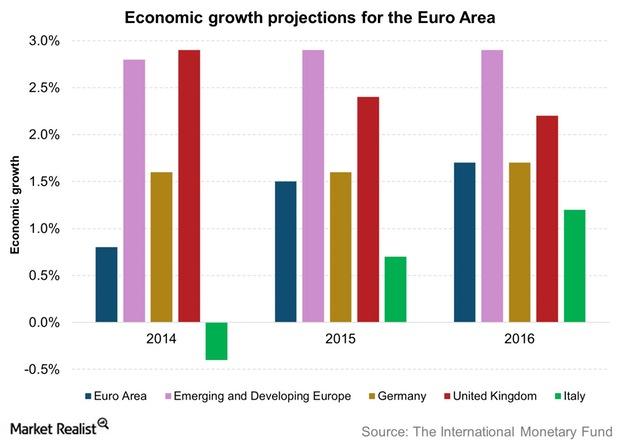 IMF's Economic Growth Expectations for Eurozone Largely the Same
By David Ashworth

Nov. 20 2020, Updated 4:00 p.m. ET
The Eurozone
In its recent update, the IMF's (International Monetary Fund) economic growth projections for the Eurozone, including Lithuania, are unchanged at 1.5% for 2015. That said, the agency is slightly more optimistic about economic growth in the region in 2016 than it was in April. It expects the region's economy to grow by 0.1% to 1.7% in that year.
Since the ECB's (European Central Bank) latest stimulus measures came in to effect in March 2015, the region's economy has received a fillip. This shows in the performance of equities and ETFs tracking the region's indices, including the WisdomTree Europe Hedged Equity ETF (HEDJ), which has risen by ~19% year-to-date. Meanwhile, the non-currency hedged iShares MSCI Eurozone ETF (EZU) has risen by over 9% in the same period.
Article continues below advertisement
Emerging Europe
There was no change in the economic growth projection for emerging and developing Europe in 2015. The IMF expects this region to grow by 2.9% this year.
ETFs including the SPDR S&P Emerging Europe ETF (GUR) and the iShares MSCI Emerging Markets Eastern Europe ETF invest in stocks of countries in this region. Investors should be cautious though, as these ETFs are yet to gain traction in terms of volume. Also, both of these ETFs have significant exposure to Russian stocks—48% and 66%, respectively.
Since the country is susceptible to geo-economic uncertainty, investors should tread carefully. Consider all the risks before investing in, for example, Russian stocks such as Mobile TeleSystems Public Joint Stock Company (MBT), Qiwi (QIWI), and Open Joint Stock Company Gazprom (OGZPY), among others.
The United Kingdom and Spain
The UK (United Kingdom) saw a downward revision in projections for economic growth in 2015 and 2016. The IMF expects the nation's economy to grow by 2.4% in 2015 and by 2.2% in 2016, down 0.3% and 0.1%, respectively, from its April projections.
On the other hand, the IMF report was positive about growth in Spain, where it sees a faster rise than expected—3.1% in 2015 and 2.5% in 2016, respectively. These projections are 0.6% and 0.5% higher than figures in the April report.
Investors in the iShares MSCI United Kingdom ETF (EWU), the iShares MSCI Spain Capped ETF (EWP), and other instruments that provide exposure to these two countries should keep a close watch on the macroeconomic picture in these nations, especially in Spain.
From Europe, let's move to another region that has been the subject of evaluation by investors in recent times—Asia.