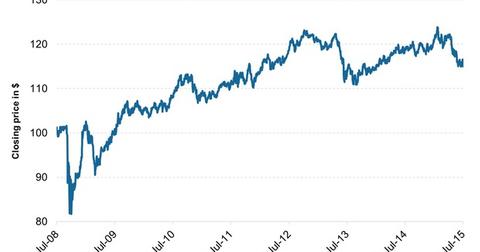 Hope of Greek Deal Leads to Rise in Investment-Grade Bond Yields
By David Ashworth

Jul. 15 2015, Published 2:16 p.m. ET
Greece drives bonds
Greece's fate in the Eurozone drove investment-grade bonds last week. A safe-haven demand for most of the week pushed yields down. But investment-grade bonds saw yields rise week-over-week. This was driven by a rise in yields on the last two trading days when it looked like Greece would reach a deal with its creditors, thus reducing the allure of safe assets.
In the latest development this week, Greece did reach a bailout agreement with its creditors. The loan package, worth ~86 billion euros spread out over three years, will be funded primarily by the ESM (European Stability Mechanism). Greece will have to fulfill several conditions.
Article continues below advertisement
This development over the weekend led to a rise in the ADR (American Depositary Receipt) of the National Bank of Greece (NBG). Before the deal was signed, yields on the seven-year Treasury note (IEF) fell below the 2% level, and the 30-year bond fell below the 3% level. This was due to uncertainty about whether Alexis Tsipras, Greece's prime minister, would be able to secure a bailout for his country.
Chinese stocks also impact yields
The sharp correction in Chinese stocks witnessed over the past four weeks has also increased the allure of investment-grade bonds. For a brief period last week and the week before, investors were watching developments in China more closely than they were watching Greece's negotiations. The falling trend contributed to yields falling until the middle of last week.
However, a steep rise in Chinese stocks on the last two trading days of the week reduced the appeal of investment-grade bonds, thus contributing to a week-over-week rise in yields.
Article continues below advertisement
Yield movement
Corporate bond yields, as reflected by the BofA Merrill Lynch US Corporate Master Effective Yield, ended last week at 3.39%, which was higher than the previous week.
Due to a rise in yields, the price of the iShares iBoxx $ Investment Grade Corporate Bond ETF (LQD) fell week-over-week. Debt issued by companies such as Verizon (VZ), Medtronic (MDT), and General Electric (GE) are among LQD's major holdings.
In this series, we'll look in detail at investment-grade corporate debt issuances for the week ended July 10. But first, let's take a look at how yields on corporate bonds have fared in 2015 so far.