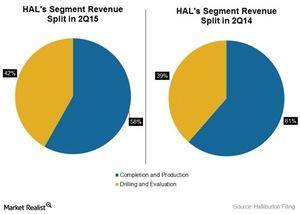 Halliburton's Segment Performance: 2Q15 versus 2Q14
By Alex Chamberlin

Updated
Split changes as revenue declines
In this series, we've been discussing Halliburton's (HAL) operating performance following its latest financial release on July 20. In this article, we'll discuss Halliburton's segment-wise performance through its revenue split and segment-wise operating income in 2Q15.
Halliburton's (HAL) revenue split changed between its two segments from 2Q14 to 2Q15. The Completion and Production (or C&P) segment's revenue share declined by three percentage points to 58% in 2Q15, while the Drilling and Evaluation (or D&E) segment's revenue share gained three percentage points to 42%. Below, we discuss why the two segments' performances varied.
Halliburton is 13.2% of the VanEck Vectors Oil Services ETF (OIH) and 2.26% of the iShares US Energy ETF (IYE).
Article continues below advertisement
Halliburton's segment-wise analysis
From 2Q14 to 2Q15, the D&E segment's revenue declined 20.3%, due primarily to a 40% segment revenue decline in its North America operations. This decline was partially offset by 6% higher revenue from the Middle East/Asia region. The D&E segment's operating income held strong, declining by a marginal 3% in 2Q15 over 2Q14.
From 2Q14 to 2Q15, the C&P segment revenue declined 30.3%, due primarily to a 38% segment revenue decline in North America. In 2Q15, all of Halliburton's geographic operations saw lower revenues in the C&P segment. So the larger drop in C&P revenues explains the shift in revenue split. The C&P segment's operating income also weakened, declining by a sharp 65% in 2Q15 over 2Q14. Read the following part of this series to see why HAL's performance varied across geographies.
Compared to the 12% EBITDA[1. earnings before interest, tax, depreciation, and amortization] margin for Halliburton in 2Q15, Baker Hughes's (BHI) 2Q15 EBITDA margin was 7.3%. FMC Technologies (FTI) recorded a 14.8% EBITDA margin in 1Q15. An EBITDA margin is EBITDA as a percentage of a company's total revenues.
Article continues below advertisement
Factors that negatively affected Halliburton's 2Q15 performance
a pressure pumping activity decline
pricing declines in most North American product service lines
the new exchange rate's negative impact in Venezuela
Positive factors that partially offset these negative factors
higher stimulation activity
increased completion tools sales in Algeria and Angola
increased D&E software sales in Latin America
higher drilling services product sales in Russia
So, Halliburton's revenue and operating income growth was diverse across its geographic operations. In the next part of this series, we'll discuss this result in depth.