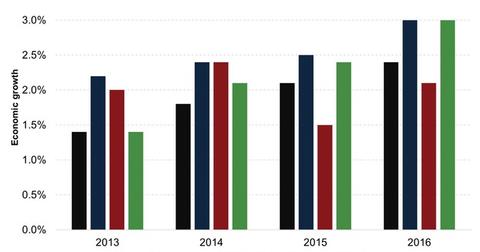 What Are the Growth Projections for North American Economies?
By David Ashworth

Updated
Unites States
Forecasted 2015 economic growth in the US was revised downward by 0.6% by the IMF (International Monetary Fund) in the July update to its April "World Economic Outlook." The US economy is now expected to grow at a 2.5% pace in this year. Growth for 2016 was downwardly revised by 0.1% to a 3% pace.
These downward revisions can primarily be attributed to unexpectedly tepid growth in consumer spending. Even with a robust labor market, wage increases have been subdued. A rise in wages usually takes place after economic activity is firmly set on a growth path.
Though US consumers gave department stores a miss, they continued to shop online. This benefitted online retailers, including Amazon (AMZN), Liberty Interactive (QVCA), eBay (EBAY), and the online sales of companies such as Walmart (WMT) and Apple (AAPL).
Some effects of lower-than-expected growth in 1Q15 consumer spending are supposed to linger for the remainder of 2015. Nevertheless, expectations are that this trend will reverse as the year progresses.
Article continues below advertisement
Canada
Canada is expected to feel the effects of slower-than-expected growth in the US due to its close economic ties with the nation. Projections from the IMF say Canada's economy will grow by 1.5% in 2016, 0.7% less than it projected in April. In 2016, however, Canada's economy is expected to grow at a 2.1% pace, an upward revision of 0.1%.
Investors in the iShares MSCI Canada ETF (EWC), among other Canada-focused instruments, should watch US economic and labor market metrics closely. They should also watch domestic indicators to determine the allocation of their investments in Canadian stocks.
Mexico
Like Canada, Mexico will also feel the effects of a slowing US economy. The country's economy, which was expected to grow at a 3% pace this year, is now expected to grow only at a 2.4% pace. Though Mexico doesn't have the same problems as Brazil, investors in Mexico-focused instruments such as the iShares MSCI Mexico Capped ETF (EWW) would do well to inspect macro data emanating from the country closely.
Next, let's move on to Europe to see how well that region's economy is expected to grow.