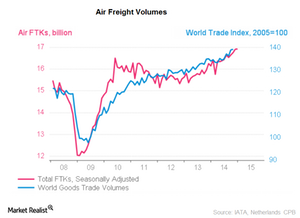 Why Growing Air Freight Traffic Is Good for Courier Services
By Ally Schmidt

Jul. 23 2015, Updated 11:05 a.m. ET
Air freight market
Air freight volumes have increased continuously since the 2009 recession, when world trade had declined significantly. The growth has been driven by the economic upturn since 2009. In 2014, the air cargo market witnessed significant growth with volumes increasing by 4.5% as compared to the 3% growth in world trade. This was the strongest growth since world trade rebounded in 2010. Growth in 2014 was due to higher contribution of the developed economies to economic growth. In 2014, 51% of the global economic growth came from developed economies as compared to 18% in 2013.
Article continues below advertisement
However, 2015 seems to be a year of cautious optimism. Growth has flattened in the past several months, with volumes shrinking throughout 1Q15. The main reason for flattening in global trade is adverse developments in the Asia-Pacific market. Both imports and exports in the region have continued to fall in 2015. In addition, slowing Chinese economy adds further downside risks.
According to IATA (International Air Transport Association), world trade is still only growing in line with domestic production, but air freight's share of world trade has been increasing since mid-2014. IATA also expects economic growth and trade to accelerate in the second half of the year, strengthening growth in air cargo volumes. Current demand conditions, however, are depressed. There hasn't been any improvement in business confidence compared to the start of 2015.
Increasing share of courier services in air freight
As the economy expands, businesses grow, both internationally and domestically. This results in a lot of goods being transported between countries. As companies grow, they increasingly demand rapid, guaranteed delivery. Courier companies are thus becoming increasingly important to ensuring the continued competitiveness of companies. So to win export markets and encourage investment, courier companies must provide good access to markets and ensure that companies, wherever they are based, have the best possible access to markets.
Express services enable companies to maximize their efficiency and minimize their inventory costs. Express services enable small companies to utilize high quality, rapid delivery services that they could not provide themselves. This is particularly important in facilitating their participation in export markets.
It is no wonder then that the express industry has increased its share of the air cargo market, growing by an average of 3% a year in real terms between 2008 and 2013. Key players in the express industry include United Parcel Service (UPS) and FedEx (FDX). Logistics providers C.H. Robinson Worldwide (CHRW), Expeditors International (EXPD), and Con-Way (CNW) provide indirect competition to this industry. The iShares Transportation Average ETF (IYT) has 29% exposure to the air freight and logistics industry.