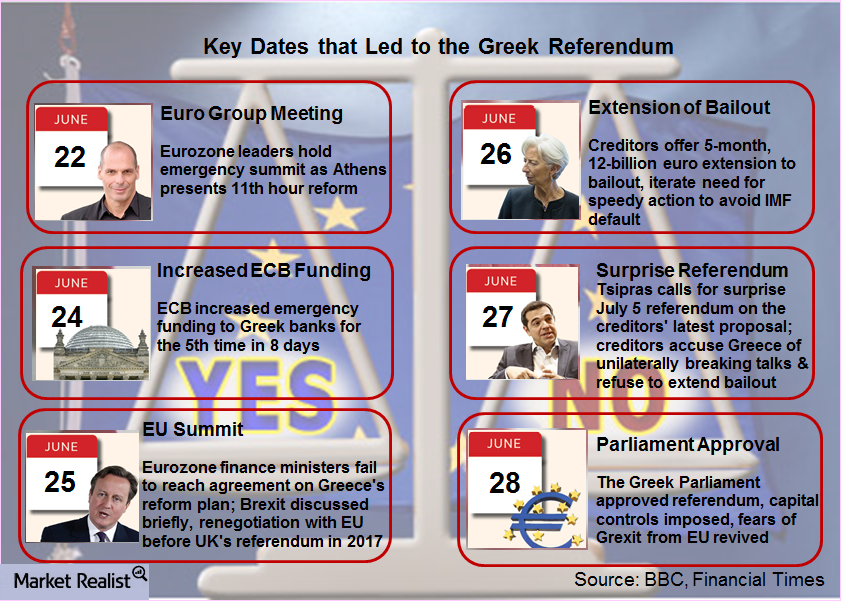 The Greek Referendum That Shook the World
By Shelly Vinson

Nov. 20 2020, Updated 11:54 a.m. ET
Over the past week, the Greek referendum (GREK) has been a major source of volatility and worry for global markets (ACWI). Greeks had to vote either yes ("nai") or no ("oxi") to bailout terms their government had already rejected.
The major points of contention that caused the impasse were sticking points of the cash-for-reforms deal. Eurozone (IEV) (VGK) creditors and the Greek government had refused to see eye-to-eye on this deal. The major points of the deal are listed below. For more details, you can read Cash-For-Reforms in Greece: No Deal, No Dice.
Article continues below advertisement
A three-tier VAT (value-added tax) system would be established. It would levy a 23% charge on most goods, 13% on food, electricity, and water, and 6% on basic needs like medicines. All exemptions to the tourism-dependent Greek islands would be eliminated.
Early retirement would be discouraged by disincentives. The retirement age would be increased to 67 years by 2022.
Healthcare and pension fund contributions would be increased. The grant given to poor pensioners, referred to by the Greek acronym EKAS, would be eliminated completely by 2020.
The talks broke down over the cuts in pension spending, a point on which the Greek government strongly refused to compromise. The above graph shows the key events that led to the calling of the referendum. Capital controls have been imposed on the economy. Banks are shut down, and a withdrawal limit of 60 euros per person per day has been set.
The referendum results came in on Sunday, July 5, 2015, and the Greeks gave a resounding "oxi" to the bailout terms. "No" votes made up 61.3% of voters, indicating that Greeks have just about had enough of austerity.
The IMF (International Monetary Fund) recently published an internal evaluation report. The report concedes that the austerity reforms have marred the Greek economy more than what was originally estimated. The IMF had predicted that the austerity package would cause a 5.5% decline in GDP (gross domestic product) and an unemployment rate of 15% over three years. However, GDP has fallen by almost 26% in the past five years, and the unemployment rate stands at a staggering 25%. The report attributes the erroneous estimates to imperfect analyst forecasts and the absence of a rebound of the private sector.
Greece remains surrounded by a quagmire of debt. The banking system is teetering on the brink of collapse, as a slow run on banks has been underway for the past six months. Fear and anxiety drove depositors to withdraw funds at an unprecedented rate. In fact, banks were only able to stay open due to the ECB's (European Central Bank) funding ecosystem called the emergency liquidity assistance scheme. If a bailout agreement isn't reached this Sunday, the ECB is likely to cut off this supply, forcing Greece to exit the Eurozone (EZU) and revert to an alternate currency.