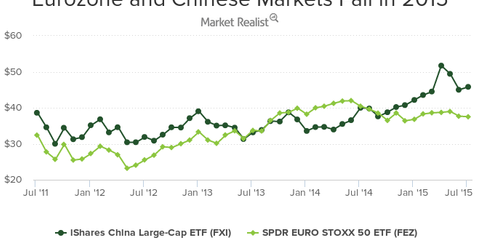 Greek Debt Crisis: Global Markets Worried but Not Panicked
By Rebecca Keats

Updated
Global stocks fall modestly
Investors around the world seem to have shrugged off worries about Greece's financial crisis. Stock markets dropped only modestly on Monday, July 6, after Greek voters rejected austerity terms set by the European Union.
Major indices closed the day down less than half a percent. The benchmark S&P's 500-stock index (SPY) fell by 0.4%, while the Dow Jones Industrial Average and the NASDAQ composite index each fell by 0.3%. Yields on the ten-year US Treasuries (TLT) fell by ten basis points to 2.29% on Monday, while bund yields fell by five basis points.
[marketrealist-chart id=513252]
Investors sold bonds issued by Italy, Spain, and Portugal on fears that these weaker economies might suffer some contagion in terms of market confidence. Yields in these countries' bonds rose by between five and eight basis points.
Article continues below advertisement
European and Asian stock market performance
In Europe, Germany's DAX fell by 1.5%, and the CAC-40 in France fell by 2%. Overall market fallout was relatively contained. The SPDR EURO STOXX 50 ETF (FEZ) fell by 4.5% in the week ending Thursday, July 2, and by a further 3.7% on Monday once the results of the referendum were known.
Financials were the worst hit, with the iShares MSCI Europe Financials ETF (EUFN) falling by 3.4% last week. Shares of major European bank Deutsche Bank (DB) fell by ~7%, Banco Santandar (SAN) fell by roughly 11%, and RBS fell by 8.8% last week.
In Asia, the sell-off of Chinese stocks continued, despite government efforts to bolster the markets amid investor unease. For example, Premier Li Keqiang failed to mention the deepening crisis in a statement on the economy. The iShares China Large-Cap ETF (FXI) fell by 3.7% last week. It has lost 6.6% of its market capitalization in the past month.
Investor sentiment
Market analysts say US investors feel largely protected from Greece's financial woes, though its troubles have sent jitters through global markets. Still, investors around the world appear to believe that even if Greece is forced out of the Eurozone—a Grexit—the risk of contagion spreading to other markets and a full-blown financial crisis in the region is limited.
Traders are also watching to see if the European Central Bank steps in to add liquidity to markets in general and to Greek banks in particular.