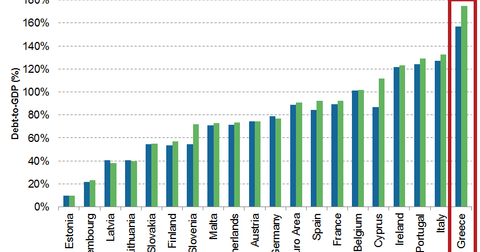 Greek Debt Crisis: Can the Damage Be Reversed?
By Shelly Vinson

Updated
Can the damage from Greece's debt crisis be reversed? The political brinkmanship and acrimony between Greece and its creditors would first need to give way to a compromise. The key issue that would have to be addressed is not just debt, but also growth. A fixed income universe can be catapulted into disaster in the absence of economic growth. This is what happened in Greece. In order for the damage to be reversed, a two-pronged approach that targets debt reduction and economic growth would have to be adopted.
Article continues below advertisement
Greece needs to focus on removing hurdles to economic growth. Austerity may not have helped the Greek cause, but abandoning structural reforms altogether wouldn't be the right move. A labor market overhaul is desperately needed to galvanize productivity and reduce the bureaucracy rampant in the system.
The efficiency of the tax collection system needs to be enhanced, and barriers to competition need to be removed. Bringing back the economy from the brink would require concerted efforts by the Greek government. The government needs to realize the importance of structural reforms and commit to them unequivocally.
On the other hand, Greece's creditors need to recognize that the massive Greek debt is largely untenable. Greek debt still stands close to 175% of its GDP, which is unsustainable by any standard.
A recent note by the IMF (International Monetary Fund) seems to endorse this idea. The report states that Greece's debt dynamics are unsustainable, and significant write-downs in liabilities would be needed in the absence of economic growth and structural reforms. According to the report, the Greek government needs 51.9 billion euros between October 2015 and 2018 to stay afloat.
The report also emphasizes the need for policy reforms. It suggests that an extension of maturities of existing European (EZU) (VGK) loans along with additional loans on similar terms need to be issued in order for the debt burden to become manageable.
Greece has already defaulted on a payment of 1.5 billion euros to the IMF that was due on June 30, 2015. Greece has become the first advanced economy in history to default on an IMF loan.
According to the BBC (British Broadcasting Corporation), even Wolfgang Schäuble, Germany's (EWG) finance minister, has conceded that Greece might need debt restructuring in order to make its economy viable. The minister also said there was a limited scope for "reprofiling" Greek debt. The reprofiling would be in the form of lower interest rates and extended loan maturities.
If Greece comes through with convincing reform proposals, Eurozone (FEZ) (IEV) creditors should be willing to give Greece a chance by agreeing to a deal. Only then can the damage be reversed.