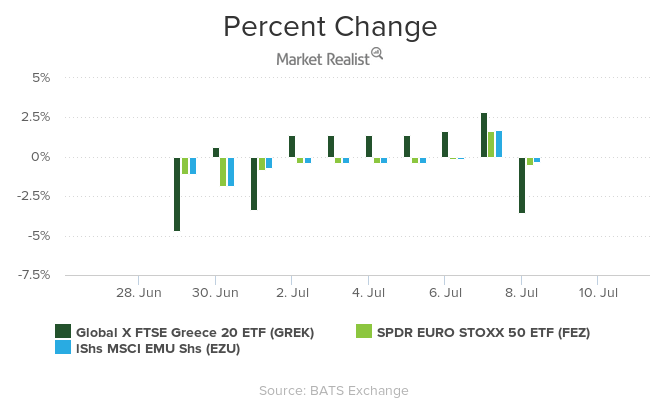 Why Greece Isn't Likely to Threaten Global Markets Long-Term
By Russ Koesterich, CFA

Jul. 10 2015, Updated 2:08 p.m. ET
Russ explains why the situation in Greece likely doesn't pose a longer-term threat to the global economy or financial markets.
In yet another unexpected twist to the Greek drama, Greek voters delivered a resounding "No" vote in Sunday's referendum, strongly rejecting the previous offer by Greece's creditors.
[marketrealist-chart id=516541]
Article continues below advertisement
Market Realist – The Greece verdict led to steep declines in global markets.
Greek citizens delivered a landslide "no" vote to the Eurozone's terms for Greece remaining in the European Union on July 5. The Greek verdict leaves the country facing a potential financial collapse, not to mention an exit from the euro.
Of Greek voters, 61.3% voted "no,"  in support of prime minister Tsipras, rejecting the austerity measures demanded by Greece's creditors, including Germany and the International Monetary Fund, in return for an extension of its bailout funds.
The verdict led to a steep decline in European as well as global equities as investors sought shelter. The iShares MSCI EMU ETF (EZU), which tracks stocks from the European Union, has dipped 7.5% in the last two weeks. The S&P 500 Index (SPY)(IVV) has fallen by 1.2% since Greece's verdict. Global equities, as tracked by the iShares MSCI ACWI ETF (ACWI), lost close to 2.3% this week.
The risk emanating in Greece (GREK) is also political. The events in Greece are likely to encourage formerly non-mainstream parties in the periphery. Podemos in Spain and the National Front in France are rising alongside a resurgent Northern League in Italy. These parties are gaining wider support with their populist platforms.
While Greece could dominate headlines for a while, it may not have as big an impact as you think. Read on to find out why the situation in Greece isn't likely to pose a longer-term threat to the global economy.