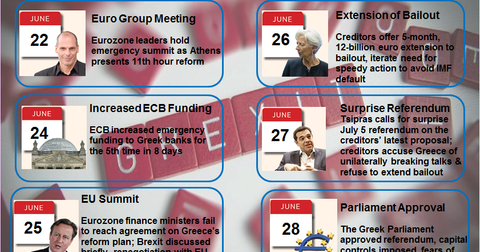 Greece Will Continue to Be a Source of Headline Risk
By Russ Koesterich, CFA

Jul. 2 2015, Updated 1:07 p.m. ET
Looking forward, Greece will continue to be a source of headline risk. My short- and long-term outlook for Greece helps explain why:
Article continues below advertisement
Short-term outlook: A deal is still the most likely scenario, but there's no easy path to get there
Market expectations for an imminent resolution took a nosedive over the weekend. Greek prime minister Alex Tsipras's announcement of a referendum, a public vote on the creditors' proposal, was swiftly followed by the Eurogroup announcing that the program of financial support due to expire on June 30th wouldn't be extended. Following that decision, the European Central Bank (or ECB) announced that it will not increase the lifeline emergency funding that has largely funded depositors withdrawals from Greek banks. In response, Greece declared a bank holiday.
Market Realist:
The previous graph illustrates the happenings of the eventful week, which ended in a breakdown of talks between Greece (GREK) and its Eurozone (EZU) (VGK) creditors. The cash-for-reforms deal continues to be a point of contention between the two parties. The following is a summary of the points of conflict between the nation and its creditors (the European Central Bank, the International Monetary Fund, and the European Commission), which we discussed in detail in Points of Contention: The Restructuring and Reform Dilemma:
A three-tier VAT (value-added tax) system isto be established from July 1, 2015, and all exemptions to the tourism-dependent Greek islands areto be eliminated:

most goods to be taxed at 23%
goods like food, electricity, and water to be charged at 13%
basic needs like medicines to be charged at 6%

Disincentives for early retirement are to be implemented and the retirement age is to be increased to 67 years by 2022.
Healthcare and pension fund contributions would be increased; the grant given to poor pensioners (called EKAS) would be eliminated completely by 2020.
The Eurozone creditors (FEZ) (IEV) and the Greek government have not been able to reach a consensus regarding the cash-for-reforms deal. The creditors insist that Greece needs to implement spending cuts rather than increasing taxation on luxury items and the corporate sector.
On the other hand, the Greek government is averse to the idea of steep pension cuts that would affect the poorer sections of the population, and hence decided to walk away from the negotiations. In response, the creditors declared the bailout extension deal to be off the table. The ECB has also decided to limit the Emergency Liquidity Assistance (or ELA) to Greece at Friday's levels. The ELA is the funding line that has been supporting the foundering Greek banks, which have been struggling due to deposit outflows over the past six months.
Greek banks have been shut down until July 6, 2015, and capital controls are in place that limit withdrawals to 60 euros per day, roughly equivalent to $67. Withdrawals are permitted for foreign bank cards and pensioners.