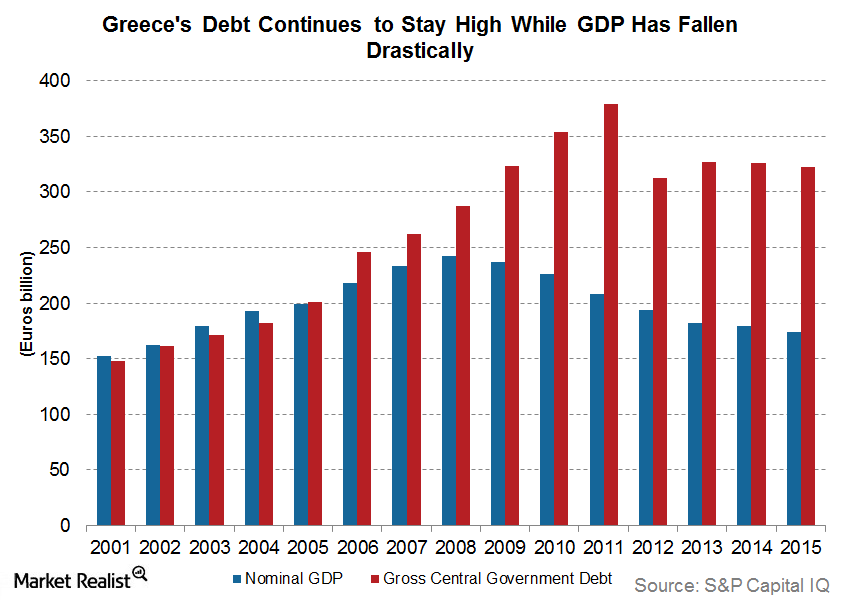 Why Greece Is Opposed to the Austerity and Reform Agenda
By Shelly Vinson

Jul. 13 2015, Updated 9:06 a.m. ET
Stringent conditions were imposed on Greece (GREK) when it received bailouts from its Eurozone creditors in 2010 and 2012. The austerity conditions were imposed so Greece could reduce its fiscal deficits, get its debt position in control, and implement structural reforms that simplify the tax structure and improve the labor markets. Reducing fiscal deficits involved cutting public spending, freezing public sector wages, increasing taxes, cutting pension expenditures, privatizing the public sector, and reforming the labor markets.
The austerity measures helped reduce Greece's fiscal deficit. But the reduction in deficits came at a heavy price. It was accompanied by unprecedented and crippling social and economic impacts. That's why Greece is opposed to the austerity and reform agenda.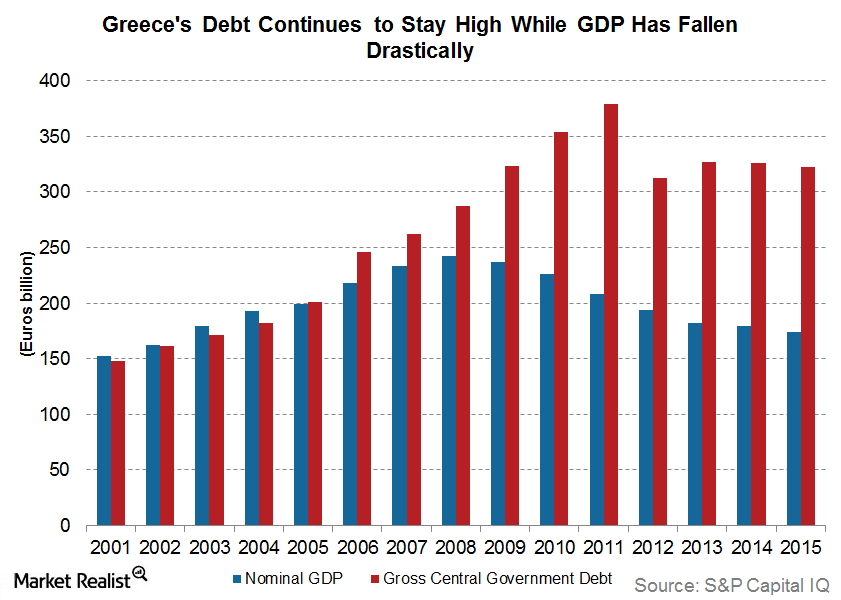 Article continues below advertisement
Greece's GDP (gross domestic product) fell by almost 26% from 2009 to 2014, as you can see in the above graph. The average rate of growth in GDP since 2010 has been -6%. This is even lower than the average growth rates of other troubled European nations (EZU) (IEV). These nations, commonly referred to as the PIIGS nations, are Portugal at -1% (PGAL), Italy at -0.5% (EWI), Ireland at 0.6%, Greece at -6% (GREK), and Spain at -1% (EWP).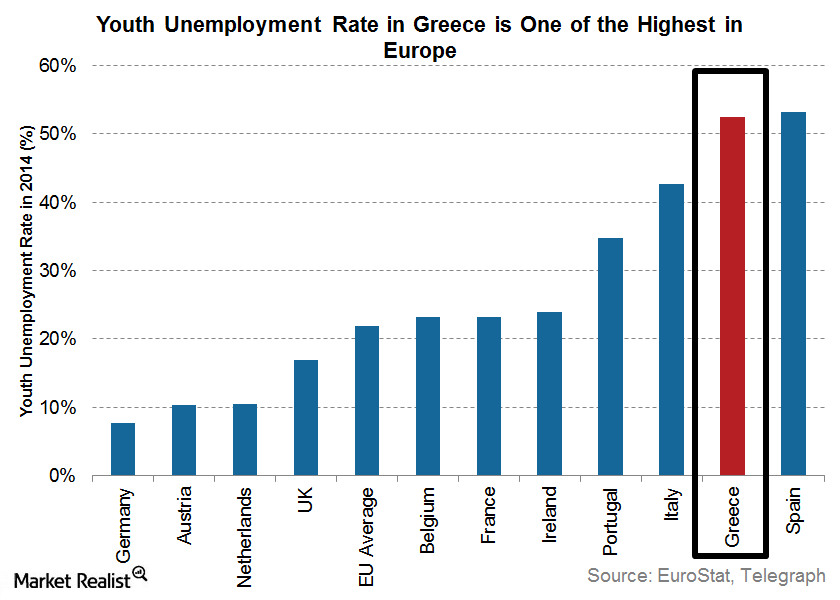 The unemployment rate in Greece stands at more than 25%, one of the highest in the Eurozone. The youth unemployment rate has climbed to a staggering 50%. According to estimates from EuroStat, 73.5% of the unemployed in 2014 hadn't worked in more than a year.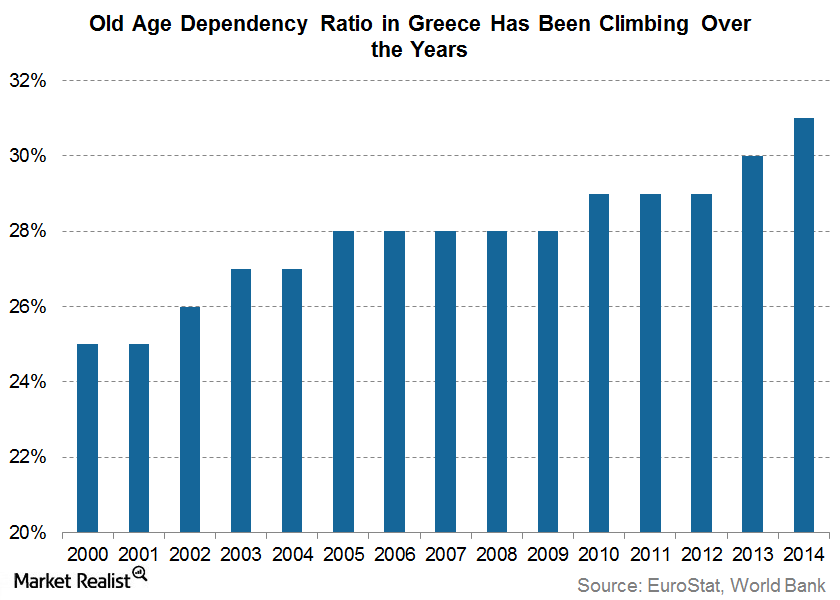 Greece spends 17.5% of its GDP on pensions. This is one of the highest in Europe, according to CNBC and EuroStat. But this doesn't necessarily mean that Greece is frittering away its resources. The country's old-age dependency ratio stands at 30%, also one of the highest in Europe. According to data from the INE-GSEE (the Institute of Labour of the Greek General Confederation of Labour) and as reported by Reuters, 45% of Greek pensioners receive disbursements below the poverty line, which is fixed at 665 euros.
Poverty levels have risen sharply in Greece. According to a report by the Parliamentary Budget Office published in 2014, a staggering 6.3 million Greeks are prone to poverty. About 2.5 million of them live below the relative poverty line, while 3.8 million face the danger of being impoverished.
The health care system has also suffered from spending cuts. The incidences of life-threatening diseases are on the rise. According to the medical journal Lancet, new HIV infections among injecting drug users in Greece have increased from a mere 15 in 2009 to a massive 484 in 2012.
Austerity has bled the Greek economy dry. Even the IMF (International Monetary Fund) has admitted recently that austerity has had unanticipated negative consequences on Greece.
In the next part of this series, we'll look at the IMF's stance and how anti-austerity sentiments drove the "No" vote in the recent Greek referendum.