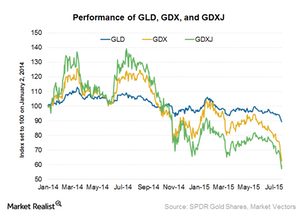 Why Are Gold Prices on a Free Fall?
By Anuradha Garg

Jul. 24 2015, Published 7:55 p.m. ET
Gold prices are on a free fall
We discussed gold's waning safe-haven appeal in Why Gold Is Losing Its Safe-Haven Appeal amid Current Turmoil. While most of the uncertainty surrounding Greece's immediate departure from the Eurozone is over, gold's woes aren't over. Gold fell to a five-year low on July 20. There are several factors responsible for this steep fall. We'll discuss these factors in detail in the rest of this series.
At one point on Monday, July 20, gold prices had fallen to $1,086 per ounce before settling at $1,104 per ounce. This is the lowest level gold has reached since March 2010. The SPDR Gold Trust (GLD) tracks the price of spot gold. It fell 5.60% in the last seven days of trading. In the same timeframe, the VanEck Vectors Gold Miners ETF (GDX) fell 16.30%. The VanEck Vectors Junior Gold Miners ETF (GDXJ) fell a whopping 11.60% on July 20.
The big cap gold miners also weren't spared from gold's downward slide. On July 20, Barrick Gold (ABX), Goldcorp (GG), and Newmont Mining (NEM) fell 15.70%, 12.30%, and 12.20%, respectively.
Article continues below advertisement
Gold indicators
Gold prices are impacted by a host of variables. In this series, we'll look at the following factors that investors can track to get a sense of the direction of gold prices. The factors include:
US inflation
US dollar
Chinese gold demand
Chinese gold reserves
gold ETF holdings
We'll also look at the impact of US data on the US dollar and gold prices. Then, we'll discuss various factors of the US labor market. These are the most important considerations that the Fed reviews before deciding on the quantum and timing of rate hikes. We'll also look at how the physical gold in the Asian market is expected to progress going forward.
These indicators should point you in the same direction as gold prices. They will also suggest movements in companies' share prices like Goldcorp, Royal Gold (RGLD), Silver Wheaton (SLW), and Kinross Gold (KGC). Combined, these companies account for 19.10% of GDX.