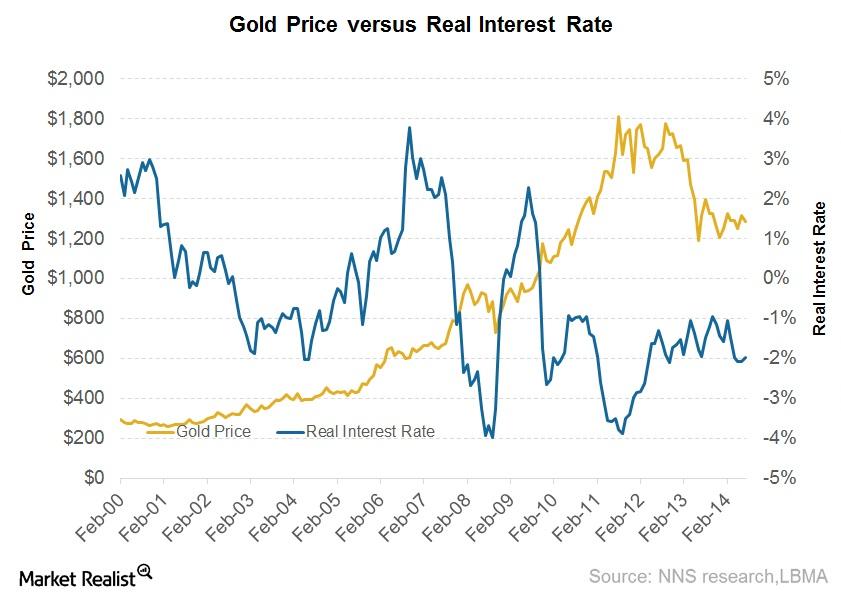 Gold: A Macro Influenced Currency
Economic turmoil
Amid the European tension from the Greek bailout and the Chinese markets losing ground, gold would ideally be expected to rise because of its inverse relationship to the economic conditions. In contrast, a relationship that duly explains the performance of gold and other bullion is the federal interest rate with the SPDR Gold ETF (GLD), gold spot (XAU), gold futures (GC), and the VanEck Vectors Gold Miners ETF (GDX).
Article continues below advertisement
Price indicators
A few of the macro indicators that affect gold and precious metals prices are:
interest rate
inflation rate
trade balance
US dollar
The above chart explains how the rising interest rates will likely be negative for investors.
FOMC meeting
The recent FOMC (Federal Open Market Committee) meeting on July 17, 2015, confirms a stabilizing economy. It's expanding at an annual pace between 2.50% and 3% in the second and third quarter. Combined with unemployment claims that were lower than expected—from 279,000 forecasted to 255,000 actual jobless—these are all positive signals that push gold prices down more.
With the economy showing its better sides, other affected investments include the Daily Gold Miners Index Bull 3x Shares (NUGT) that fell 3.74% on a five-day trailing basis. Newmont Mining (NEM), Barrick Gold (ABX), Goldcorp (GG), and Yamana Gold (AUY) fell 4.59%, 1.77%, 2.35%, and 7.87% on a five-day trailing basis. Together, they account for ~23.72% of the VanEck Vectors Gold Miners (GDX). GDX has a five-day trailing loss of 0.78% and a 30-day trailing loss of 21.34%.
An inverse relationship
Historically, gold has had an inverse relationship with the US dollar. There are two logical explanations:
As the US dollar gets stronger, other currencies comparatively have less buying power. So, they restrain from buying gold denominated in the US dollar. This leads to falling gold prices.
The rising US dollar indicates a higher interest rate compared to the other countries. So, money will flow into the country with higher rates. This will boost the economy, diminish tautness, and lower gold prices more.