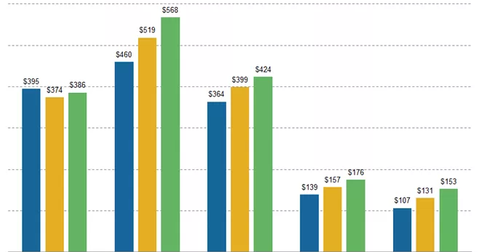 Global Telecom Companies Are Growing Rapidly in 2015
By Adam Rogers

Updated
Overview
Global telecom firms are growing from strength to strength in 2015. Positive market trends in mobile broadband, cloud computing, and big data management have ensured the steady growth of firms even while telecom operators have struggled to generate revenue.
Most countries already have, or are now in the process of developing, national broadband network policies for fixed broadband.
Article continues below advertisement
Global mobile penetration
In 2014, approximately 80% of the European population were unique mobile subscribers. In the Sub-Saharan region of Africa, 39% of people were unique mobile subscribers. This indicates mobile penetration varies to a large extent around the world. Nevertheless, analysts estimate that developing countries will experience phenomenal growth in mobile take-up between 2015 and 2020.
In 2014, there were approximately 7.1 billion mobile subscriptions—unique and multiple users combined—with the majority of users from the Asia-Pacific, followed by Europe. Mobile broadband services have seen spectacular take-up in developing countries including India and China, at an average 38% CAGR (compound annual growth rate). There will be an estimated 3.1 billion Internet users in 2015, 25% of whom will have access to fixed broadband.
With increased use of video applications and initiatives related to M2M (machine to machine) as well as IoT (Internet of Things), there's widespread interest in upgrading to high-speed devices. Wireless devices are expected to overtake wired devices in terms of IP (Internet protocol) traffic, accounting for 50% of total Internet traffic in 2016.
In terms of subscribers, China Mobile tops the list of the world's largest telecommunication companies, followed by Verizon (VZ), AT&T (T), and Vodafone (VOD).
Verizon and AT&T constitute 10.75% and 10.72%, respectively, of the iShares U.S. Telecommunication ETF (IYZ). AT&T also constitutes 4.38% of the Technology Select Sector SPDR Fund (XLK).