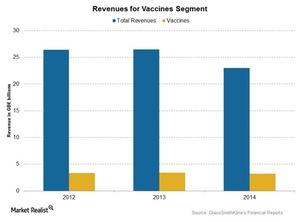 GlaxoSmithKline's Vaccines Segment
By Mike Benson

Updated
Vaccines segment
The Vaccines segment for GlaxoSmithKline (GSK) is one of the largest in the world, with a broad portfolio of over 30 vaccines. For 2014, this segment achieved a turnover of 3.2 billion pounds (or $5.3 billion), which is 13.9% of group turnover. In 2014, the company distributed over 800 million doses in 170 countries.
Article continues below advertisement
Understanding the Vaccines segment
This segment deals with vaccines that help take preventive measures against illness such as hepatitis, rotavirus, HPV infections, diphtheria, tetanus, measles, and mumps.
Presently, around 40% of children across the world receive at least one GSK vaccine to protect them against life-threatening infection. However, there are nearly 22 million children in low-income and least-developed nations in Africa and Asia who do not have access to these vaccines.
GlaxoSmithKline has a network of 14 vaccine manufacturing sites around the world. The company also has over 100 partnerships for R&D. Some of these vaccines take up to two years to complete their production process.
GlaxoSmithKline completed the three-part transaction with Novartis AG (NVS) on March 2, 2015. As a part of this transaction, GSK acquired the Novartis' Vaccines business, except its influenza vaccines, to strengthen its overall position. This acquisition not only added several vaccines for meningitis and several travel vaccines to its portfolio, but it also strengthened GSK's manufacturing network and increased its exposure to key markets like the US.
Key strengths
GlaxoSmithKline is a market leader for vaccines, with over 80% of vaccines sold in the developing countries including least-developed, low-income, and middle-income countries. The company is the largest supplier to Gavi, the vaccine alliance. This public-private partnership was created in 2000 to improve access to vaccines for children in the world's poorest countries.
The major competitors for GSK's Vaccines segment include Sanofi (SNY), Merck (MRK), and Pfizer (PFE). GlaxoSmithKline forms about 4.8% of the total assets of the SPDR S&P International Health Care Sector ETF (IRY). Funds like the Health Care Select Sector SPDR ETF (XLV) are also focused on pharmaceuticals and healthcare companies.