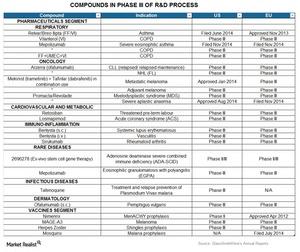 GlaxoSmithKline's Research and Development Pipeline
By Mike Benson

Updated
Pipeline
GlaxoSmithKline's (GSK) Research and Development (or R&D) centers have ~25 new molecular entities (NMEs, or new drugs containing an active compound that has not been approved by the FDA or marketed in the US) in Phase II and Phase III for Pharmaceuticals, as well as 14 vaccines under development for a range of diseases.
Article continues below advertisement
Pharmaceuticals pipeline
GlaxoSmithKline has over 16 compounds in Phase III, which are either under Phase III research or pending approvals as listed in the table above.
For the Respiratory franchise, two drugs are filed for approval in US markets, while one of these drugs is already approved in EU markets. For Oncology, two compounds are already approved in US markets, while one of these drugs is in Phase III and the other is filed for approval in EU markets. All the drugs for the Cardiovascular and Metabolic Diseases franchise, the Immuno-inflammation franchise, Rare Diseases, Infectious Diseases, and Dermatology are in Phase III of development for both the US and EU markets.
GlaxoSmithKline is more focused on increasing its share in respiratory medicines, and it is likely to achieve positive growth rates for the Respiratory franchise by 2016.
Vaccines pipeline
There are four vaccines in Phase III of development as of December 31, 2104. They include Nimenrix (MenACWY prophylaxis), which is in Phase II for US markets, but approved in the European Union (or EU) in April 2012. MAGE-A3 (Melanoma) and Herpes zoster (Shingles prophylaxis) are in Phase III for both the US and EU markets. Mosquirix (Malaria prophylaxis) filed for approval in the EU in July 2014.
Future cash flows of any pharmaceutical company are dependent on the strength of the pipeline of drugs under development. This is the reason for huge R&D spends by pharmaceutical companies like Teva Pharmaceutical Industries (TEVA), Merck (MRK), and Pfizer (PFE). MRK forms about 6.4% of total assets of the Health Care Select Sector SPDR ETF (XLV).