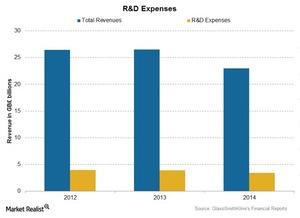 GlaxoSmithKline's Research and Development Center
By Mike Benson

Updated
Research and development
Research and development (or R&D) is the most crucial part of a pharmaceutical company's business in the prescription drug segment. These expenses relate to the process of discovering, testing, and developing new products, as well as improving the existing range of products. These expenses also ensure product efficacy and regulatory compliance prior to launch.
The R&D expenses for GlaxoSmithKline (GSK) were 3.4 billion pounds (or $5.6 billion) in 2014, 3.9 billion pounds (or $6.1 billion) in 2013, and nearly 4.0 billion pounds (or $6.3 billion) in 2012. As a percentage of revenues, the R&D expenses were ~15% in 2014, ~14.8% in 2013, and ~15.1% in 2012.
The declining R&D costs in absolute figures reflect the phasing of ongoing project spending, the completion of several programs, and cost management efforts.
Article continues below advertisement
R&D setup
There are over 13,000 people who work in different roles in R&D across the group. In 2014, the company spent nearly 81% of total R&D expenses on pharmaceuticals, 14% on vaccines, and 5% on consumer healthcare.
As a part of R&D, GlaxoSmithKline's Pharmaceuticals segment has around 25 new molecular entities (NMEs, or new drugs containing active compounds that have never been approved by the FDA or marketed in the US) in Phase II and Phase III. These NMEs cover therapeutic areas including respiratory, immune-inflammation, HIV, and cardiovascular diseases. Apart from this, there are 14 vaccines in Phases I–III used to prevent a variety of infections such as shingles, hepatitis C, tuberculosis, respiratory syncytial virus, exacerbations in COPD, malaria, and Ebola.
The Consumer Healthcare business launched over 50 new products in 2014, including Sensodyne True White toothpaste and new variants for Horlicks, a nutrition supplement.
Large pharmaceutical companies like Teva Pharmaceutical Industries (TEVA), Merck (MRK), and Eli Lilly (LLY) also spend heavily to develop patented drugs. MRK forms about 6.4% of the total assets of the SPDR Health Care Select Sector SPDR ETF (XLV).