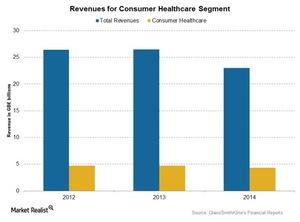 GlaxoSmithKline's Consumer Healthcare Segment
By Mike Benson

Updated
Consumer Healthcare
GlaxoSmithKline's (GSK) Consumer Healthcare business consists of the world's largest over-the-counter (or OTC) medicines division, with the leading position in 36 markets. GSK is also a market leader in specialist oral health in 50 markets.
The company supplies these healthcare products to over 100 countries worldwide. During 2014, the Consumer Healthcare segment achieved a turnover of 4.3 billion pounds (or $7.1 billion), which is 18.8% of group turnover.
Article continues below advertisement
The Consumer Healthcare segment
The Consumer Healthcare segment's product portfolio is spread over four categories:
Wellness
Oral Health
Nutrition
Skin Health
The Wellness category is focused on pain management, respiratory health, gastrointestinal health, and smokers' health. The Oral Health category is focused on sensitivity, acid erosion, denture care, and gum health. The Nutrition category is focused on the nutritional supplements such as vitamins. The Skin Health category is focused on dermatology products from Stiefel, a subsidiary of GSK.
Nearly half of this segment's business consists of OTC medicines. The other half comprises Fast-Moving Consumer Goods (or FMCG) brands in the areas of Oral Health, Nutrition, and Skin Health. The company is focused on converting its business to Fast-Moving Consumer Healthcare (or FMCH) by selecting the best of pharmaceuticals and FMCG products.
GlaxoSmithKline completed its three-part transaction with Novartis AG (NVS) on March 2, 2015. As a part of the transaction, GSK's Consumer Healthcare segment merged with Novartis' OTC division to form a new GSK Consumer Healthcare division.
Consumer Healthcare's key strength
The combined business of Novartis' OTC and GSK's Consumer Healthcare segments gives GSK a leading position in specialist oral health and in OTC across 36 markets. The new company will have 19 major brands with annual revenues in excess of $100 million each. GlaxoSmithKline has six research centers worldwide.
Major competitors for the Consumer Healthcare segment include Johnson & Johnson (JNJ), Pfizer (PFE), and Sanofi (SNY). GlaxoSmithKline forms about 4.8% of the total assets of the SPDR S&P International Health Care Sector ETF (IRY). Funds like the Health Care Select Sector SPDR ETF (XLV) are also focused on pharmaceuticals and healthcare companies.