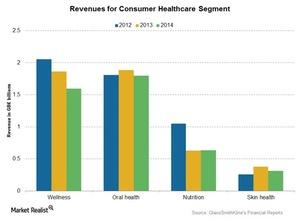 GlaxoSmithKline's Consumer Healthcare Revenues in 2014
By Mike Benson

Jul. 14 2015, Updated 8:06 a.m. ET
The Consumer Healthcare segment
GlaxoSmithKline (GSK) is a major player in worldwide consumer healthcare. Nearly 18% of its total revenues for 2014 were contributed by its Consumer Healthcare segment.
Article continues below advertisement
Performance for 2014
Revenues for the Consumer Healthcare segment declined by ~9% to 4.3 billion pounds (or $7.1 billion) in 2014 from 4.7 billion pounds (or $7.3 billion) in 2013, including the impact of foreign exchange rates. At constant exchange rates (or CER), the decline in revenues was nearly 1% for 2014. Major reasons for the decline in sales include supply issues, the comparison with a troublesome cold and flu season in early 2013, and slowing global markets. The above chart shows the performance of the individual franchises.
The Wellness franchise sales were down by 14% at 1.6 billion pounds (or $2.6 billion) in 2014. The decline in sales for the Wellness franchise were primarily due to the supply issues and product recalls that significantly impacted sales of smokers' health products by 29% CER.
The Oral Health franchise sales grew by 4% CER at 1.8 billion pounds (or $3.0 billion) in 2014. However, the decline was actually 5% after considering the foreign exchange rates. This was due to increased sales of Sensodyne, which was partly offset by sales of Aquafresh, due to supply issues in Europe and US markets.
The Nutrition franchise sales grew by 1% at 633 million pounds (or $1.0 billion) in 2014, primarily due to the increased sales of nutrition supplements, including Horlicks and Boost in India and other markets.
The Skin Health franchise sales declined by nearly 18% at 310 million pounds (or $511.5 million) in 2014. The decline was due to lower sales in China.
Major competitors for the Consumer Healthcare segment include Johnson & Johnson (JNJ), Pfizer (PFE), and Sanofi (SNY). GlaxoSmithKline forms about 4.8% of the total assets of the SPDR S&P International Health Care Sector ETF (IRY). Funds like the Health Care Select Sector SPDR ETF (XLV) are also focused on pharmaceuticals and healthcare companies.