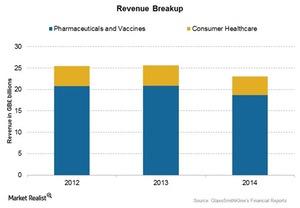 GlaxoSmithKline's Associated Business Segments
By Mike Benson

Updated
Business segments
GlaxoSmithKline (GSK), the British pharmaceutical company with a significant worldwide presence, deals in the following business segments:
Pharmaceuticals
Vaccines
Consumer Healthcare
The key business segment of the company's operations is Pharmaceuticals, followed by Consumer Healthcare and Vaccines. The entire business is segregated among these three segments.
Article continues below advertisement
Pharmaceuticals
GlaxoSmithKline's Pharmaceuticals segment deals with developing, manufacturing, and marketing medicines, both patented as well as generic, to treat a broad range of acute and chronic diseases. The portfolio is made up of innovative (or patent-protected) as well as established (or generic) medicines.
The company leads in medicines for respiratory diseases and HIV. During 2014, the revenues from the Pharmaceuticals segment were 15.5 billion pounds (or $25.6 billion), which is 67.3% of the company's total revenues.
Vaccines
GlaxoSmithKline's vaccines segment is one of the largest in the world, with a broad portfolio of over 30 vaccines used for pediatric, adolescent, adult, and travel. The company distributed over 800 million doses in 170 countries during 2014.
The Vaccines segment achieved a turnover of 3.2 billion pounds (or $5.3 billion), which is 13.9% of the group turnover in 2014.
Consumer Healthcare
The Consumer Healthcare business is one of the largest in the world, with its product portfolio spread over four categories:
Wellness
Oral health
Nutrition
Skin health
The company supplies these products to over 100 countries worldwide. During 2014, the Consumer Healthcare segment achieved a turnover of 4.3 billion pounds (or $7.1 billion), which is 18.8% of group turnover.
GlaxoSmithKline forms about 4.8% of total assets of the SPDR S&P International Health Care Sector ETF (IRY), while Novartis AG (NVS) forms about 12.8%, Sanofi (SNY) forms about 5.5%, and Novo Nordisk (NVO) forms about 5% of the total assets of IRY. Other ETFs like the Health Care Select Sector SPDR ETF (XLV) and the iShares US Healthcare ETF (IYH) are also focused on pharmaceuticals and healthcare companies.
For more information on Novartis, please refer to What Were Novartis's Key Business Segments in 2014?