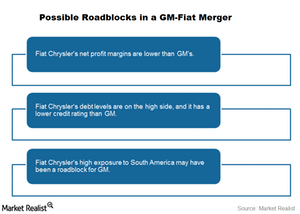 Why Did General Motors Spurn Fiat Chrysler's Overtures?
By Mohit Oberoi, CFA

Aug. 18 2020, Updated 6:34 a.m. ET
Why did GM turn down Fiat Chrysler's offer?
As we saw in the previous part of this series, the 2000 strategic alliance between General Motors (GM) and Fiat lasted only five years. Now let's look at why General Motors may have spurned Fiat Chrysler Automobiles N.V.'s (FCAU) merger overtures this year.
Fiat Chrysler's net profit margins are much lower than General Motors'. To make things worse, Fiat Chrysler's trailing PE (price-to-earnings) ratio is much higher than General Motors'. If the merger had gone through, a combination of these two factors could have meant value destruction for GM shareholders.
Article continues below advertisement
Fiat has high debt levels
As we saw in part 8 of this series, General Motors and Ford Motor Company (F) are net debt positive. This means that the cash and cash equivalents on their balance sheets exceed automotive debt. However, Fiat Chrysler's gross debt is more than its cash balance, and its credit ratings are currently below General Motors'. A possible merger could have negatively impacted GM"s credit ratings.
GM investors currently enjoy an annual dividend yield of 4.6%. Fiat Chrysler hasn't been paying dividends since its listing last year. Toyota Motor Company (TM) also has a healthy dividend yield of 3.1%.
Fiat Chrysler's high debt levels and poor cash flows could be another reason behind GM's refusal to entertain merger talks.
Fiat Chrysler's South American exposure
Fiat Chrysler's dominant position in South America could have also gone against the merger. The automobile industry in South America, especially Brazil (EWZ), is in a severe slowdown. General Motors probably didn't want a higher exposure to South America, considering the region's poor fundamentals.
The deal possibly could have bought cost savings and synergies, but those benefits seem to have been overshadowed by the other factors.
In the next part, we'll discuss how Fiat Chrysler is impacted by currency movements.