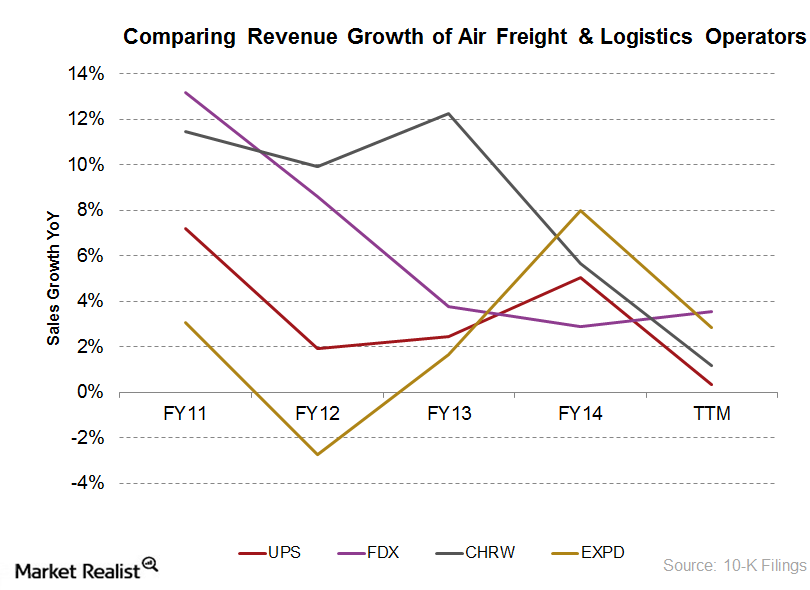 Fundamental Industry Trends that Investors Should Know
By Santiago Solari

Nov. 20 2020, Updated 2:33 p.m. ET
Operators look toward emerging markets for growth
While air freight and logistics service operators have benefited in recent years from the recovery in the US economy since the 2008-2009 crisis, mergers and acquisitions have been the major growth driver for the industry in recent years. As developed markets such as Europe and North America have grown at very tepid rates, larger operators such as FedEx Corporation (FDX) and United Parcel Services (UPS) are shifting their focus towards emerging markets.
Article continues below advertisement
According to McKinsey & Company, emerging markets are likely to contribute roughly 75% of economic growth over the next ten years. Factors contributing to attractive growth rates from emerging markets over the next few years include a growing middle class population coupled with higher consumer spending.
These trends seem promising for courier service providers, as they are likely to translate to improved cargo volumes in these regions. Additionally, penetration of e-commerce in these markets would present further growth opportunities. Industry leaders FDX and UPS derive less than one third of their business outside the US. So this presents a viable opportunity for them to grow their top line rapidly.
FedEx completes acquisition of TNT Express
In April 2015, FedEx announced the acquisition of Dutch courier service provider TNT Express in an effort to enhance its presence in Europe. The deal was worth $4.8 billion, representing a premium of 33% of TNT's stock price as of the date of the announcement. Earlier in 2013, UPS's ~$7.0 billion bid to acquire TNT was denied on anti-competitive grounds.
Though TNT has been facing the heat with declining revenues, and even booked a net loss in fiscal 2014 due to its restructuring efforts, the deal is set to bring in approximately $7.6 billion in incremental revenues and is set to increase its market share in Europe by around 12%, leaving it in a stronger position to compete with the current market leaders in Europe, Deutsche Post (DHL) and UPS.
Earlier in the year, FedEx acquired product returns company GENCO Distributions System for $1.4 billion at approximately 12.25% discount to GENCO's fiscal 2014 sales.
XPO Logistics (XPO) continued its buying spree with the announcement of its acquisition of Bridge Terminal Transport for $100 million in May. The transaction was its third in the year, as it had acquired French transport and logistics provider Norbert Dentressangle SA for $3.6 billion in April 2015. Nearly $1.1 billion of this was funded in the form of debt. In February 2015, XPO acquired UX Specialized Logistics for $59 million. These transactions should help the company to reach its revenue target of $9.5 billion for the current fiscal year from $2.4 billion in fiscal 2014.
Investors can attain exposure to air freight and logistics stocks by investing in ETFs such as the iShares Transportation Average ETF (IYT) and the S&P Transportation ETF (XTN).