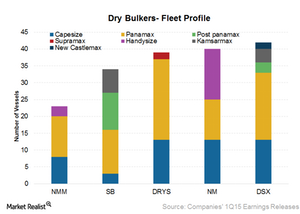 Why Is the Fleet Profile for Dry Bulk Companies Changing?
By Anuradha Garg

Jul. 9 2015, Published 12:03 p.m. ET
Fleet profile
Various classes of vessels are employed depending on volume, trade routes, and the geographical limitations of ports. Capesize vessels are 110,000 to 119,999 DWT (deadweight tonnage) in capacity. They're used at the largest ports around the world, primarily to transport iron ore or coal on long-haul routes.
Panamax vessels are 60,000 to 79,999 DWT. They're used to carry coal, iron ore, grains, and, to a lesser extent, minor bulks. Handymax or Supramax vessels with 40,000 to 59,999 DWT are used in a large number of global trade routes to carry primarily grains and minor bulks.
In this article, we'll take a look at the fleet profiles for the major dry bulk companies.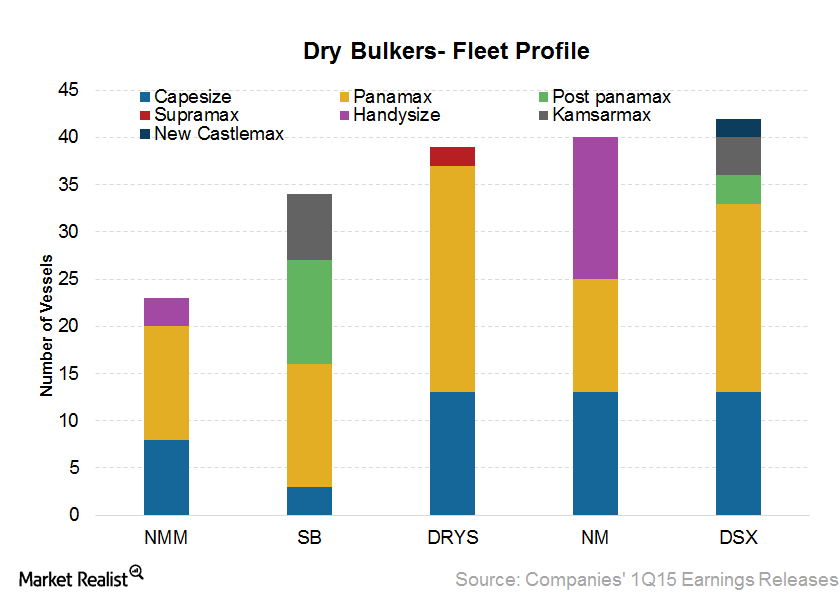 Article continues below advertisement
Pure plays
Safe Bulkers (SB) has a fleet of 34 dry bulk vessels, including 13 Panamax, seven Kamsarmax, 11 Post-Panamax, and three Capesize, with a total of 3.1 million DWT.
Diana Shipping's (DSX) fleet consists of 42 dry bulk vessels, including two Newcastlemax, 13 Capesize, three Post-Panamax, three Kamsarmax, and 20 Panamax, as of May 12, 2015. DSX's combined fleet carrying capacity, excluding the three vessels not yet delivered, is ~4.83 million DWT. DSX has exposure to containerships through an equity investment in Diana Containerships (DCIX). DSX owns 26.1% of DCIX's outstanding shares.
Diversifying away from dry bulk
Navios Maritime Partners (NMM) was a pure play dry bulk shipping company until December 2013, when it started acquiring container vessels to keep its distributions stable in a weak dry bulk shipping environment. These vessels are expected to generate 43.3% of EBITDA (earnings before interest, taxes, depreciation, and amortization) by the end of 2015.
At the end of 1Q15, NMM had 23 dry bulk vessels, including eight Capesize, 12 Panamax, and three Ultra-Handymax. It also has eight container vessels.
DryShips (DRYS) sold its ten tankers in May 2015 and now has exposure to the dry bulk industry through 39 dry bulk vessels. However, it still has significant exposure to offshore drilling through its 59.2% owned subsidiary Ocean Rig UDW (ORIG).
Through ORIG, DryShips owns and operates 13 offshore ultra-deepwater drilling units comprised of two ultra-deepwater semi-submersible drilling rigs and 11 ultra-deepwater drill ships. DryShips owns a fleet of 39 drybulk carriers, including 13 Capesize, 24 Panamax, and two Supramax, with a combined DWT of approximately 4.3 million tons.
Navios Maritime Holdings (NM) is quite diverse in terms of exposure to marine shipping. It owns 40 dry bulk ships, including 13 Capesize, 12 Panamax, and 15 Handymax. It has exposure to dry bulk and containerships through its 20% interest in NMM. It also has 46.2% interest in Navios Maritime Acquisition (NNA), which has majority interest in Navios Maritime Midstream Partners LP (NAP). NM also owns a 63.8% stake in Navios South American Logistics, which focuses on logistics.
The Guggenheim Shipping ETF (SEA) invests in major shipping companies around the world. Navios Maritime Partners forms 2.9% of SEA's holdings. The SPDR S&P Metals and Mining ETF (XME), on the other hand, provides global exposure to the metals and mining space.