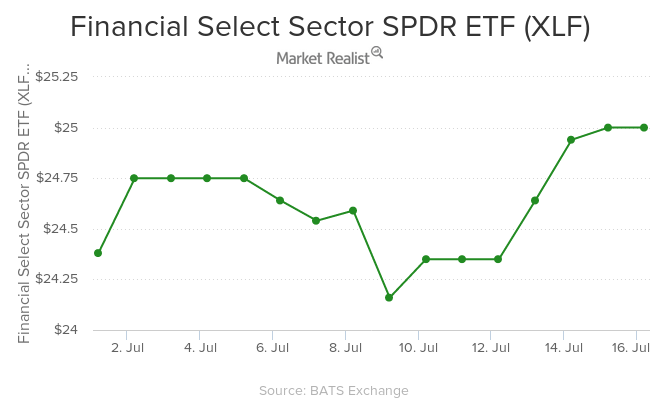 Financials Steal the Spotlight on July 15: Stellar Q2 Earnings
Financials grabbed the spotlight on July 15 with stellar Q2 earnings
Financial-sector companies such as Bank of America (BAC), U.S. Bancorp (USB), and BlackRock (BLK) shared the spotlight on July 15, after their earnings reports for the fiscal quarter ended June 2015 beat Wall Street estimates. XLF was up 0.84% while SPY was down 0.04% on July 15's close. BAC ended 3.2% higher on July 15's close.
Bank of America (BAC) reported $0.45 in EPS (earnings per share) against the $0.36 expected by Wall Street experts. U.S. Bancorp (USB) reported $0.80 in EPS against the expected $0.79 while BlackRock (BLK) exceeded market expectations of a $4.80 EPS by reporting a $4.96 EPS for Q2. Citigroup (C) and Goldman Sachs (GS) are due to report their earnings on July 16.
So far, Wall Street has reacted to earnings releases from J.P. Morgan (JPM) and Wells Fargo (WFC), which came out with their Q2 reports on July 14. See JPMorgan's 2Q15 Results Keep Wall Street Upbeat.
[marketrealist-chart id=530247]
Article continues below advertisement
The financial sector is catching up
The financial sector in the United States is definitely catching up. While the broad-market SPDR S&P 500 ETF (SPY) has returned 2.48% so far this year, the financial sector, as tracked by Financial Select Sector SPDR ETF (XLF), has been able to yield 1.94% during the same period. Companies in the financial sector have been able to deliver these returns despite the currency war having eaten up their margins in foreign countries. See US Banks Among the First to Fall to the Currency Wars.
Most of Europe has been on a low interest rate regimen with ongoing monetary stimulus in place. The dollar's (UUP) appreciation against foreign currencies further erodes profitability.
Expectations of a rate hike fuel financial sector stocks
Financial sector stocks have been gaining lately, solely on the expectations of a rate hike soon. Banks' margins are tied to interest rates. Margins for banks equal the difference between the interests received on loans, less interest paid on customer deposits. With a rate rise, banks would be better placed to raise the interest rates they charge on loans. The effect would be immediate on floating-rate securities and gradual on fixed-rate securities. At the same time, the rise in the rate paid on deposits is generally slower and, to a lesser extent, leading to a margin expansion for banks.
The sooner the rate hike, the better for banking stocks. However, the probability of a rate hike still hinges on continued positive economic data. There were certain key economic indicator releases in the United States on July 15. The PPI, for example, gives you a view of inflationary expectations, which are key to the Fed's decision-making.