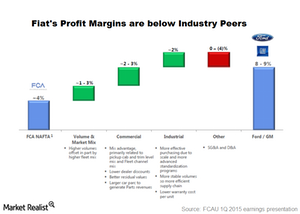 Could Fiat Chrysler's NAFTA Profit Margins Improve in 2Q15?
By Mohit Oberoi, CFA

Updated
Fiat Chrysler's NAFTA profit margins
As we've already seen, 58% of Fiat Chrysler Automobiles N.V.'s (FCAU) shipments are in NAFTA (North American Free Trade Agreement). Fiat Chrysler is the fourth largest automaker in the United States (SPY). General Motors (GM), Ford Motor Company (F), and Toyota Motor Company (TM) are the top three.
Article continues below advertisement
Fiat Chrysler's profit margins are lower than peers
Fiat Chrysler's profit margins in NAFTA have typically been lower than Ford's and General Motors'. The above graph shows the EBIT (earnings before interest and taxes) margins for Fiat Chrysler and its competitors.
As you can see, Fiat Chrysler's margins are almost half of the margins for Ford and General Motors. This is despite the fact that Fiat Chrysler's per hour average labor costs are lower by almost $10 compared to the other two automakers.
Fiat Chrysler has outlined several initiatives that could help the company bridge this gap. Fiat Chrysler expects higher volumes to boost its profit margins. Fiat Chrysler's US sales have increased year-over-year now for more than 60 months. Higher sales volumes help companies by spreading out the fixed costs among more units, driving down unit production costs.
Lower costs
Fiat Chrysler also hopes to reduce its per unit warranty costs. But this may prove to be challenging given the spate of recalls. Fiat Chrysler may end up with a heavy financial penalty for its inefficient recall process. This could be a drag on Fiat Chrysler's NAFTA profit margins in the coming quarters.
Fiat Chrysler also expects supply chain improvements to help increase its profit margins. Raw material costs, from steel to aluminum, have dropped significantly. This should benefit all automakers.
In the next part of this series, we'll talk more about Fiat Chrysler's financial ratios.