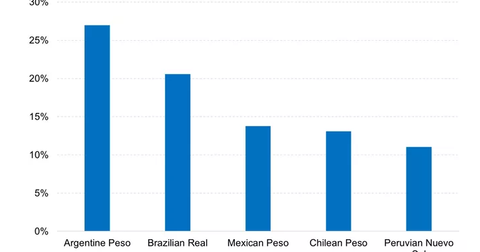 Fall in PC Sales: US Dollar Appreciation Played a Major Role
By Anne Shields

Updated
Latin American currencies fell since 2014
In the last part of the series, we discussed that PC sales suffered the steepest fall in 2Q15 since 3Q13. The IDC (International Data Corporation) and Gartner think that the strong appreciation of the US dollar (UUP) against other foreign currencies has pushed PC prices up. This caused PC shipments to fall.
Article continues below advertisement
US dollar experienced significant appreciation in 2014
Strong appreciation of the US dollar against a basket of currencies forced many regions to hike PC prices. This impacted their sales. In 2014, the US dollar emerged as one of the most preferred currencies in the world. Falling oil prices and the US economy's strength in a world with sluggish growth helped the US dollar climb to its highest levels since 2006. However, this impacted technology companies like IBM (IBM), Oracle (ORCL), and Microsoft (MSFT) that derive most of their revenue from outside the US.
According to Gartner's principal analyst, Mikako Kitagawa, "The price hike of PCs became more apparent in some regions due to a sharp appreciation of the U.S. dollar against local currencies."
Please read Key Catalysts Behind The US Dollar Rally In 2014 to learn more about the journey of the US dollar.
Latin American currencies versus the US dollar
The above graph shows the performance of certain Latin American currencies against the US dollar since the start of 2014. These currencies, like most others, have depreciated against the dollar. The Argentine peso was one of the hardest hit currencies in the region. It fell 27% during this period. The Brazilian real fell by 20.60%, the Mexican peso fell by 13.80%, the Chilean peso fell by 13.10%, and the Peruvian nuevo sol fell by 11%.
Due to QE (quantitative easing) by the ECB (European Central Bank) and the BoJ (Bank of Japan) (EWJ), the dollar is expected to strengthen in the near future.
To learn more about Latin America's long-term investment prospects, please read The Implications of Depreciating Latin American Currencies.