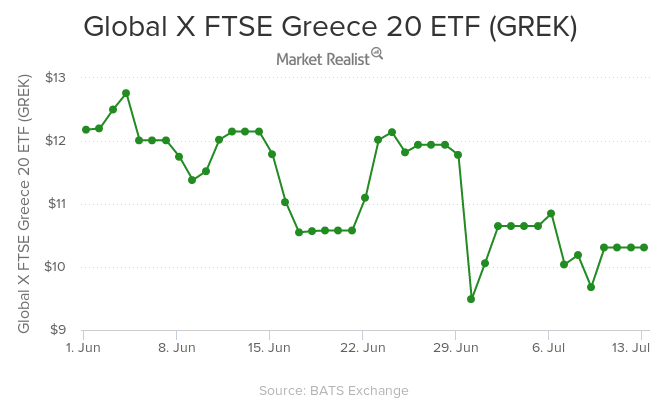 Eurozone Agreement: Greece to Receive up to $96 Billion
By Surbhi Jain

Nov. 20 2020, Updated 12:44 p.m. ET
Eurozone agrees to bail Greece out
On July 13, the Greek saga hit another milestone. Eurozone ministers reached a unanimous agreement to bail Greece out again, this time by granting it access to $96 billion (86 billion euros) from the European Stability Mechanism (or ESM).
[marketrealist-chart id=521766]
Article continues below advertisement
Stock markets gained ahead of the agreement
European stock markets gained ahead of the Eurozone ministers' decision to help Greece. On July 10, the Global X FTSE Greece 20 ETF (GREK) gained 9.21%. The Europe-tracking Vanguard FTSE Europe ETF (VGK) gained 4.16%, with the SPDR EURO STOXX 50 ETF (FEZ) reflecting a 5.49% gain on the same day. The WisdomTree Europe Hedged Equity ETF (HEDJ) was up 3.79%. Among European stocks, gains were led by National Bank of Greece (NBG), which was up 11.01%, Deutsche Bank (DB), which rose 5.80%, and Barclays (BCS), which gained 4.39% on the same day.
The "Euro Summit Statement" of July 12
On the morning of July 13, Donald Tusk, Chief of the European Council, remarked, "After 17 hours of negotiations, we have finally reached it. One can say that we have 'agreekment'. Leaders have agreed in principle that they are ready to start negotiations on an ESM programme, which in other words means continued support for Greece. There are strict conditions to be met."
The strict conditions that Tusk referred to, as stated in the "Euro Summit Statement" dated July 12, 2015, include the following.
By July 15:
• broadening of the tax base to increase revenue
• upfront measures to improve the pension system's long-term sustainability
By July 22:
• the adoption of the Code of Civil Procedure
• the transposition of the BRRD with support from the European Commission
Meanwhile, investors in Chinese equity continue to ride a roller coaster. Read,  to learn how.
Investors in the Euro area may find our analysis on European Equity ETFs useful. Stay updated on our latest analysis of the United States Europe (HEDJ), and the rest of the world (ACWI) by visiting Market Realist's Macro ETF Analysis page.