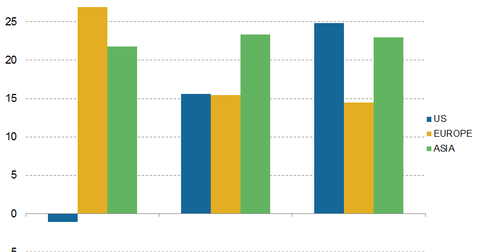 European Telecom Companies Lead in Investor Returns
By Adam Rogers

Updated
M2 Group generates impressive 12-month return
A price comparison of global telecom companies shows that European telecom companies that are part of the SPDR S&P International Telecommunications Sector ETF (IST) generated solid average returns of 26.95% in the TTM (trailing 12 months). In comparison, telecom firms in Asia and the United States generated returns of 21.8% and 9.55%, respectively, in the same period.
In 2014, Asian stocks led the telecom sector with returns of 23.34%, followed by European companies and firms in North America that appreciated by 15.42% and -1.06%, respectively.
M2 Group grows by acquisition
M2 Group is one of the fastest-growing stocks in the telecommunications sector. It's listed on the S&P/ASX 200. M2 Group has beat the market consistently over a period of time. The firm has concentrated on acquisitions to fuel growth, acquiring iPrimus and Dodo Internet brands in the last few years. It has also expanded its consumer base by diversifying into utilities such as electricity and gas.
In April 2015, M2 Group announced its acquisition of CallPlus for $245 million to expand its business into New Zealand. CallPlus is the third-largest Internet service provider in New Zealand. The CallPlus acquisition was completed in July 2015 and is expected to increase revenues by 250 million New Zealand dollars and EBITDA (earnings before interest, taxes, depreciation and amortization) by 45 million New Zealand dollars in fiscal 2016. In so doing, the acquisition will boost EPS (earnings per share) by 15% as well.
Price-to-earnings valuations
PE (price-to-earnings ratio) estimates are highest for global stocks listed in the United States (24.81x), followed by Asia (23.01) and Europe (14.51x). In terms of individual stocks though, Colt Group is trading with a forward PE of 49.9x, followed by Vodafone (38.05x) and Drillisch (35.83x).
In comparison, domestic telecom firms in the United States such as SBA Communications (SBAC), Frontier Communications (FTR), Level 3 Communications (LVLT), and T-Mobile (TMUS) have forward PEs of 116.83x, 60.81x, 22.3x, and 20.73, respectively.
The average PE for stocks held by the iShares U.S. Telecommunications ETF (IYZ) is comparatively higher, at 30.84x.